Herald Rating: 3/5
Address: 160 The Esplanade, Petone, Wellington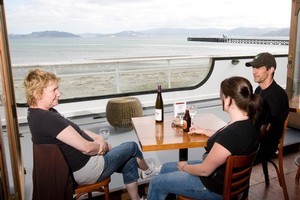 We came here because we'd heard it was family-friendly, and with a chatty 7-month-old in tow, we needed somewhere with plenty of space and staff who wouldn't frown on a bub at the table.
Parking was plentiful along The Esplanade, so if it's a nice day (and they do happen occasionally in Wellington, I promise) and you have to park a distance away, a stroll along the Petone foreshore would blow out the cobwebs.
We walked in and immediately thought the view must be one of the best in Wellington, with Matiu/Somes Is directly in front, the CBD over to the right and, of course, the picturesque jetty close by. I know, from experience, that this is one of the best spots in Wellington to see the odd dolphin or whale.
The most unusual thing on the menu was nothing - all pretty standard.
We ordered blueberry pancakes with berry, honey and vanilla sauce and whipped cream ($16.50), which was tasty but a little on the sparse side with a handful of blueberries as the only nod to presentation, and the steak sandwich ($19.50) - scotch fillet, salad, cheese, red onion, relish on ciabatta with a side of delicious fries. The baby tried to eat the Sunday papers until his mum dished up some vanilla custard.
The coffee was large, but a brand we don't like. The hot chocolate was really good, as was the banana smoothie.
The service was fast and attentive - not bad considering they were pretty busy with lots of family groups.
We recommend if you come here choose a nice day, as those views are to die for.
Overall we thought it a good destination for a family get-together, especially if you have kids in tow.