Estate agents are coming under pressure to disclose a property's history, but the owners of some of Auckland's most notorious homes are happy to stay put.
Aucklander Tina Helg had no idea that her Greenlane home was the scene of one of New Zealand's most sensational murders.
When the Herald on Sunday contacted Helg she was more fascinated than shocked to learn of a brutal murder in her kitchen 67 years ago. In June 1947, Gladys Ruth Rusden was found dead in the house with severe head injuries, inflicted with "almost incredible brutality" by a blunt object, according to a newspaper report.
Another woman, Francis Haskell, had been having an affair with Rusden's husband and developed a "fanatical and long-standing determination to kill Mrs Rusden".
Haskell was sentenced to life imprisonment with hard labour.
The history of properties is in the spotlight after a ruling by the real estate agents' watchdog and the Real Estate Institute is now calling for clearer guidelines on how much agents should tell prospective buyers about what has happened at the property.
In its ruling this month, the Real Estate Agents Disciplinary Tribunal found Barfoot & Thompson should have told clients about a suicide on a South Auckland property, citing the possibility of purchasers being uncomfortable with "stigma or spiritual concerns".
When Helg and her partner bought their house three years ago, the agent made no mention of its past. "I'd be surprised if the agents even knew," she says. "Certainly not something that long ago."
But Helg is not too bothered by her home's gruesome history. "It's piqued my interest more than it being a problem, I guess because it's so far in the past. I don't think that houses retain any bad feeling or anything. I'm a bit of a sceptic when it comes to that sort of thing so it doesn't bother me."
Hong Kong woman Patricia Chow bought a Spanish-style villa in Milford on Auckland's North Shore because Princess Diana used its swimming pool during the 1983 royal tour of New Zealand. The princess and her lady-in-waiting swam at the villa several times during their stay in the city.
Diana arrived dressed casually, often in three-quarter-length knickerbockers which were fashionable at the time. She would leave with her damp hair wrapped in a towel.
Patricia Chow's son, Harris Chow, co-owns the property and says his mother met Diana briefly in the early 90s in Hong Kong.
"I wouldn't say it was the only reason [she bought the property] but my mum was pretty excited about it," he says. "She [Diana] had a big impact on all the women she met."
Chow hasn't considered selling the property, but he acknowledges the royal connection will help when the time comes.
Jimmy Taylor was attracted to his new home for completely different reasons.
He is one of more than 200 people who live in numerous buildings on the sprawling grounds of the boarded-up Kingseat Hospital, a former psychiatric hospital in South Auckland, considered one of New Zealand's most haunted locations.
Every Friday and Saturday night one of the buildings echoes to screams - punters who have paid money to be scared out of their skins at Spookers evenings.
"We heard the rumours, we heard everything about it but we just though 'screw it, it's a beautiful place to live, let's just go'," he says.
Taylor moved into an old villa which used to house elderly patients with mental illness, within sight of the ominous-looking hospital and a short walk to the morgue, which retains its fridges and body slab.
"Anyone willing to live in an old mental hospital would know there have been deaths, electric shock treatments and the whole nine yards.
"I think it does take a certain mind-set for someone to go into a place like Kingseat and live there."
But there are advantages, he says.
"It is quiet - people don't come here because of the history - and it's a small tight-knit community where everyone knows everyone.
"And not many people can say they live in an old mental hospital."
Given the grim pasts behind some front doors, including a double murder in Auckland's swanky Paritai Drive, it is perhaps not surprising that agents would rather not be compelled to disclose all.
High-end real estate agent Graham Wall hasn't sold any houses with dark histories but, in his experience, past occupants and their deeds are "completely irrelevant".
"Mark Hotchin had a bit of a reputation but we sold his house for $39 million so I don't think anyone paid a premium for the fact that it was Mark Hotchin's, and equally no one asked for a discount," Wall says.
The same was true of the Waimanu mansion on Argyle St in Herne Bay, once owned by the Sultan of Brunei and where Rachel Hunter and Rod Stewart stayed during the early years of their marriage.
"The fact that Rod Stewart stayed there wouldn't mean much to anyone, really," Wall says.
The head of Victoria University's school of psychology, Dr Marc Wilson, says "disgust research" could be used to explain why some people have an aversion to houses with troubled histories.
"When we find out something icky happened in our house it makes us feel gross because of a process of 'contagion' - a magical thinking process whereby, in spite of our knowledge and sophistication, we have a gut-level feeling that when two things come in contact they share some of their essence."
For instance, research showed people might feel more comfortable eating a chocolate shaped like a dog pooh than wearing a jersey worn by a serial killer, he says.
"We believe the ickiness will rub off on to us. People vary in their levels of disgust sensitivity, though. And that means that some people will freak out at such a discovery while others will see it as an opportunity to pick up a dirt-cheap house."
Houses with positive histories will be of less significance to people, although the knowledge can be used as a status symbol.
"It just means you can boast about living in an ex-All Black's house or whatever."
Because of the value and effort people put into their homes they did have an emotional and psychological investment in them, particularly if it is a first home, Wilson says.
Real Estate Institute chief executive Helen O'Sullivan says clearer guidelines are needed on when a real estate agent is obliged to disclose information about a property's past.
"From the real estate agent's point of view, the safest thing in the world is to disclose everything.
"But the agent has to balance that with the vendor because what if the vendor says to the agent 'I forbid you to tell people about that event that happened here'? What does the agent do in that situation?"
Description forms used in listing agreements don't cover events that have occurred at a property.
"At the end of the day it's about the property, not the things that have happened in it," O'Sullivan says.
"If something particularly bad - or good - has happened there, it doesn't stay in the walls."
There's history to be found behind every window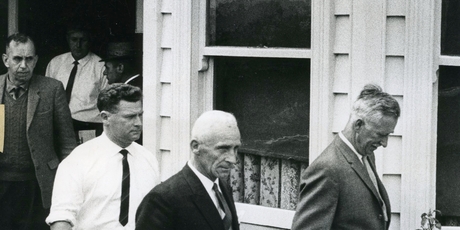 Annick Larkin admits she didn't do any research when she and husband Tim bought a beautiful old villa on Bassett Rd in Auckland's Remuera.
As they were signing the contract, the agent said they might like to look into the property's history.
The Larkins discovered that in 1963, Frederick George Walker and Kevin James Speight were shot dead in a hail of machinegun fire in what is now the Larkins' living room.
The pair were executed by Ron "Jorgy" Jorgensen and John Gillies, two men known to police of the day for the part they were already playing in Auckland's seedy underbelly.
The bodies were riddled with bullets from a .45-calibre machinegun. It was the first time such a weapon, famously favoured by legendary gangster Al Capone, had been used in a crime in New Zealand.
The "Chicago-style" killings attracted a media frenzy and became known as the Bassett Rd machinegun murders.
"For us, it's just quite a fascinating bit of history - a bit of ganglands in Remuera - but it's never worried us at all," Larkin says. "It happened in our living room but you'd never know. Layers of paint and wallpaper probably hide everything now."
Passersby occasionally point at the house and take photographs, but only one person has refused to come inside - a workman who wouldn't enter because it hadn't been blessed.
"I think our parents, given it was in their youth when it happened and knew all about the murders, were also a little bit shocked to hear we'd bought it."
Larkin doesn't believe it should be a requirement for agents to disclose what has happened in a property's past.
"For us, it was 50 years ago that it happened.
"If it was something that was very recent maybe people would like to know about it.
"But I think most homes have a bit of history."