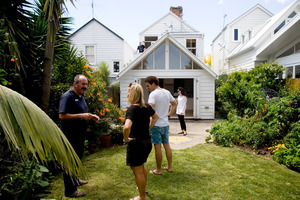 Landlords increased weekly rents for homes of every size in all but two of Auckland's 30 suburbs, a four-year comparison shows.
Renters in the city are paying up to $140 more a week than they were in 2009, according to the data supplied by Crockers.
The property management company has analysed the number of new bonds received each month - supplied by the Real Estate Institute of New Zealand (REINZ) and the Department of Building and Housing - for one, two, three and four bedroom homes over four years.
The area defined as Ponsonby/Herne Bay/St Marys Bay has remained among the most expensive places to live for all sized houses during the period. Rents for two bedroom homes in the suburb jumped $89 to $521 a week between 2009 and 2012. Three bedrooms jumped $60 to $712 while four jumped $93 to $911.
Takapuna/Milford was the dearest for a one bedroom home at $399, having jumped $58.
Among the cheapest for all-sized houses have remained Pukekohe/Tuakau/Waiuku, Papakura, Manukau/Manurewa, and Mangere/Otahuhu/Otara, with all rents remaining below $440, although most still saw large increases.
A Ponsonby resident said he was paying $90 more a week now than three years ago on a room in a shared house - $4680 extra a year. He expects it will rise even further.
He knew his rent increases were small compared to others in the suburb.
"Everyone who I tell [what I pay] outside Auckland just can't believe it."
Ponsonby appealed because it was so central but he was getting sick of paying so much for just a room.
Crockers marketing manager Kim Sinclair said the figures were relative as the company had looked at the number and value of new bonds each month.
But he claimed that landlords were not necessarily receiving windfalls after increasing their rents, because of soaring house prices last year. Yearly rental returns were slightly lower than those in 2011, with the exception of earthquake-stricken Christchurch, Ms Sinclair said.
For example, someone who bought a home in Auckland for $504,000 and rented it out for all 52 weeks of the year at $440 per week, would have brought in 4.54 per cent of their original investment before expenses. In 2011, they would have brought in 4.68 per cent.
There were a lot of rental homes on offer so renters could afford to be more picky if they could afford the rents in higher-priced suburbs, she said.
"They're asking themselves 'Is it in the school zones? Is it insulated?' There's a bit more stock out there so people are not in a rush to get the first property available."
There were currently 4783 rental properties available in the wider Auckland region, and 2399 in Auckland city, according to Trade Me, she said.
Real Estate Institute chief executive Helen O'Sullivan said landlords were trying to recover costs for rising rates and water bills - some of which went up by thousands last year.
Ponsonby had long appealed to renters, she said.
"It's a nice part of town, walking distance to shops, bars and restaurants and great transport links to the CBD. Why wouldn't you want to live there? Parking is an issue for some parts obviously. But it's very trendy."
The area of Grey Lynn/Westmere has also stayed as one of the most expensive areas for all years, increasing by $85, from $564 to $649.
"You get a bit of displacement effect with places like Grey Lynn," Ms O'Sullivan said.
"So, 'I can't afford Ponsonby, so I'll try Grey Lynn. Or I can't afford Ponsonby or Grey Lynn so I'll try Kingsland'. Just keep moving further back."
Family-oriented areas such as Mt Roskill, Mt Eden and Remuera also had large increases, with the latter seeing a $130 rise for four-bedroom homes.
"Mt Roskill, in particular, is a bit of an up-and-comer as a suburb," Ms O'Sullivan said.
"It still has really big, generous, old-style sections and old-style properties with potential to improve."
The City Bays area, which covers Mission Bay to St Heliers, was another expensive suburb, mainly due to its lack of properties.
"Some of these nicer areas tend to be more executive level tenancies," Mrs O'Sullivan said.
"Someone you're putting up for a couple of years, they come in on an executive package, they want the nicer place in town. It's interesting, the more expensive the house, the lower the rental return tends to be. Because $800 a week is not much on a $2 million house."
In terms of an investment, areas in South Auckland where rents were cheaper often saw bigger returns, she said.
"In Papakura, you can buy a house for $350,000 to $400,000, and you're getting $430 a week in rent. That's actually not too bad.
"It's a bit of an undiscovered suburb," she said.
"There's big, solid, state-house-building-era houses, you can walk to the train ... there's some new-build houses there as well."
Paul McKenzie, of realestate.co.nz, said there was a lot of development around Red Hill, Papakura, a sacred Maori site with panoramic views of the Auckland region.
Companies were selling the properties as new homes-to-rent.
Crockers' full list will be published by the company in next Wednesday's Herald.
Read more: Rents rising faster than wages and inflation