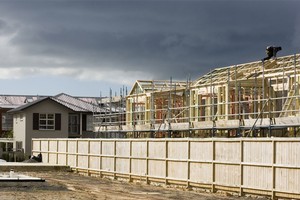 Building consent numbers fell further in October, but there is some hope among economists that the industry will look up next year.
Figures from Statistics New Zealand (SNZ) yesterday showed dwelling unit approvals falling for a fourth consecutive month if apartments are excluded, dropping a seasonally adjusted 1.1 per cent in October.
The unadjusted 1099 new dwelling units, excluding apartments, approved last month were 17 per cent lower than a year earlier, while the 24 new apartment units were 77 per cent lower.
When apartments are included, building consents fell a seasonally adjusted 2 per cent in October after a 0.2 per cent rise in September.
ANZ economist Mark Smith said the key information was that consent issuance remained weak for both residential and non-residential construction.
The floor area of residential consents was about 50 per cent below its post-1990 average, with non-residential about 20 per cent below its historical average, Smith said.
But he expected that improving household income growth, population growth and a recovering housing market were likely to pave the way for a more respectable 2011.
"However, the short-term prognosis remains bleak."
Deutsche Bank chief economist Darren Gibbs said the most significant weakness in housing consents was being seen mostly outside the main centres, specially in Waikato, Northland, Bay of Plenty and Otago.
But he did not think the low levels of dwelling consents of recent months were likely to be sustained in 2011.
Factors he took into account included overseas events increasing the likelihood that the official cash rate remains at stimulatory levels well into next year, net migrant arrivals carrying on at roughly a 10,000 annual pace, and rebuilding after the Canterbury earthquake.
By the second half of 2011 he also expected to see signs of activity related to the repair of leaky homes.
Yesterday's SNZ data also showed the value of residential building consents was $415 million in October, down 14 per cent from a year earlier.
Non-residential building consents was $272 million last month, down 17 per cent from October 2009. Consents issued for all buildings was $687 million, down 15 per cent from a year earlier.
For the year to October, the value of residential consents was up $743 million, or 15 per cent, from the year before to $5.72 billion, while that for non-residential buildings fell $768 million, or 17 per cent, to $3.75 billion.
For all buildings the value was down $25 million to $9.47 billion.
- NZPA