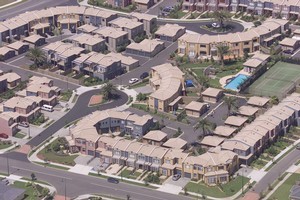 Sky-rocketing house prices have given a state probe into property impetus and land supply could emerge this week as a key to resolving issues.
On Friday the Productivity Commission will release its findings into housing affordability, expected to challenge Auckland Council's planning regulations restricting metropolitan urban limits.
The report will be issued by commission chair Murray Sherwin whose organisation has already hinted at its distaste for strangling the supply of sections, either by opportunistic investors or the council.
This month Reinz announced a new national median high of $367,500, QV said Auckland values were above the 2007 peak and Barfoot & Thompson said November prices hit $567,489, one of this year's highest.
The commission has investigated policies restricting land release, the minimum lead time for release and development of new land and housing, whether high-density housing policies matched what people wanted and developers land banking.
"There is evidence that metropolitan urban limits have driven up land and housing prices within and just beyond the containment area and that they have become an increasingly binding constraint on land supply over time," the commission said.
"There are also claims of undesirable instances of land banking in Auckland where owners within MULs have restricted land release or placed restrictive covenants either to prevent certain development proceeding on the land or to ultimately prevent the land from being purchased by certain households," the commission said.
The issues paper also weighed up the pros and cons of intensification and sprawl, giving five arguments for squeezing housing up more and just three for urban expansion.
Capital gains tax on rental properties is seen by many as necessary to resolve the affordability crisis.
Robert Reid, First Union general secretary, said tax on rental property would help resolve affordability.
"Any serious discussion on housing affordability must include a debate on a capital gains tax on all properties except the family home. Although the impact is likely to be more in the medium to long term, as investors redirect their capital into more productive assets, we still believe this move is a necessary one," he said.
Auckland Council's submission to the commission inquiry accepted that "medium density/intensified dwellings are not favoured by families and older people", while the Reserve Bank's submission said the country "needs to ensure that land use can change relatively readily towards the most valuable use of that land".
Housing affordability inquiry chiefs are:
* Chair Murray Sherwin, ex-chair Canterbury Earthquake Recovery Commission
* Professor Sally Davenport, ex-head Victoria University management school
* Dr Graham Scott, ex-Secretary to The Treasury, now head of an advisory business
* Steven Bailey, inquiry director on housing affordability
- Source: Productivity Commission