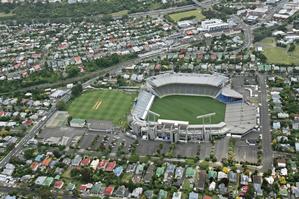 Home owners planning to make a quick buck renting their houses during the Rugby World Cup need to be careful - the taxman is watching you.
The Commissioner of Inland Revenue, Robert Russell, says the department will monitor websites and other places where home owners advertise to keep an eye on the situation.
"If you believe what you read in the papers there probably will be a lot of people deciding to finance an overseas holiday by putting up their houses for rent," said Mr Russell.
"So we'll be trying to remind people that they have a tax obligation if they do that."
Neil Russ, tax partner for law firm Buddle Findlay, said home owners who failed to pay taxes for renting their homes - even temporarily - could face serious consequences, including criminal proceedings.
"If [the tax evasion] was large-scale, I think the commissioner might be tempted to make an example," he said.
And home owners who thought they could head overseas to spend their ill-gotten gains might be wise to think again, Mr Russ said.
"Nowadays, there's an electronic trail ... The taxman's quite good at following the money."
Property Investors Federation vice-president Andrew King said people renting their homes during the World Cup might be doing so for the first time - potentially making them unaware of their tax obligations.
"[Home owners] should go and get some books on renting just to be able to get an idea of what [tax] they're due to pay and also what they can claim as expenses and things like that," Mr King said.
Yesterday, the IRD announced a crackdown on NZ's untaxed "hidden economy" as it released its annual Compliance Focus report, which said ticket scalping could also become an issue at the Cup.
"So, we'll be monitoring people who buy game tickets for resale," the report said.
The IRD says it will also focus on the hospitality, agricultural, horticultural and scrap-metal sectors in the next year.
Scrap metal is now a significant export industry, with an annual turnover of $2 billion, according to the IRD. The industry offers "cash for scrap", which the department says raises issues around tax.
Mr Russell said the IRD would work with legitimate businesses in the scrap-metal sector to locate those not paying their taxes.
"Oftentimes [legitimate businesses are] quite aware of who their competitors are that maybe aren't playing the game the way it's meant to be played."
The IRD report said the hospitality sector would be scrutinised as it experienced many start-ups and closures and had a high level of cash transactions.
Agricultural and horticultural contractors would also be targeted, because tax evasion schemes had been operating in those sectors for some time.
"We've seen a significant decrease in illegal activity as a result of our ongoing focus on [the agricultural and horticultural] industry," the report said.
Mr Russell said that GST rising to 15 per cent in October would give people more incentive to avoid paying it, although the IRD did not expect a major impact on tax evasion figures.
He said the IRD was also taking a cautious approach to a recent Court of Appeal ruling that the use of a company structure by Christchurch orthopaedic surgeons Ian Penny and Gary Hooper, with the non-payment of market salaries, amounted to tax avoidance.
It was awaiting a possible appeal to the Supreme Court.
RUGBY RENTERS
What you need to know:
* Any income received from renting land and property is subject to tax.
* That income must be declared in an annual income tax return.
* Home owners can claim back deductions on that tax for the costs incurred in gaining the income, such as electricity and cleaning.