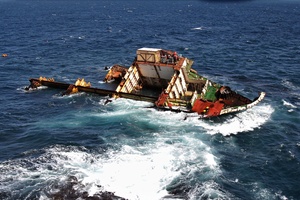 Fears the Rena wreck will be a festering environmental sore for 100 years has led to calls for the public to be better informed.
Tauranga Mayor Stuart Crosby said the city council had been essentially excluded from negotiations and discussions about the Rena and was not getting enough information.
Yesterday's council meeting backed his call for a comprehensive report on the Rena to be included in the monthly projects and monitoring committee agenda.
Mr Crosby said there were fears once the bow section of the wreck had been removed, the submerged stern section meant the Rena would be out of sight and out of mind. "There are significant issues still be to resolved around the Rena."
Although council would be able to make resource consent submissions on the Rena, there were not enough formal communications taking place. "A lot is happening. I am concerned that we don't know so we can't report it to our community."
He said the Rena was the most significant issue the council had to face. Thousands of tonnes of rubbish had the potential to be dispersed in the Bay.
"There is still a huge environmental hazard just out from our coastline. We need to be constantly updated on what is happening out there."
Councillor Bill Faulkner said it would be a festering sore in Tauranga's backyard for 100 years or more if it was not cleaned up properly.
More than 300 containers were still in the submerged stern section, including aluminium ingots and several containers full of plastic beads used in manufacturing.
Mr Crosby said authorities had a reasonably good idea of what was still in the containers and that was the information the city council needed to know - the environmental risks.
Councillor Larry Baldock said a lot of people mistakenly thought the council was the decision-maker on the wreck.
Mr Crosby said there were two strands to the Rena clean-up, the commercial strand consisting of the salvager and the insurers, and the central government and local government strand. The Bay of Plenty Regional Council had the greatest say among local agencies.
Rena insurer, The Swedish Club said it was more than happy to engage directly with council to ensure it was well briefed.
"Message noted, we appreciate people want to continue to be informed - not just about the proposal but also what's happening out on the water, which is what we're committed to doing."
For more articles from this region, go to Bay of Plenty Times