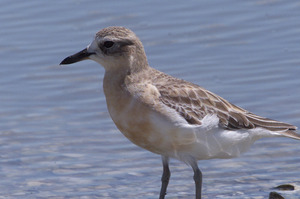 As the tender process for the removal of stricken cargo ship Rena wreck continues, clean up efforts have been speeded up to avoid disrupting breeding birds.
Environmental clean-up company Braemar Howells is giving Matakana Island top priority in its shoreline clean-up operations out of consideration for its resident birdlife.
The Bay of Plenty island is a popular dotterel breeding ground. Braemar operations manager Neil Lloyd said the best possible clean-up effort will be made over ensuing weeks and then halted, so as not to disrupt their mating patterns.
Areas further down the east coast are also the focus of clean-up plans because adverse weather has stirred up debris in the Pukehina area and further down the coast including plastic gloves, refrigerated container foam, timber, boards, plastic and noodle packets.
A labour force and vessels will be sent to those affected areas once a "good weather window" permits.
Ongoing surveys have revealed some of the debris has washed up in areas inaccessible by land so will be approached by sea.
Preparations are also being made for the retrieval of more containers on the seabed at depths of less than 50 metres.
- APNZ