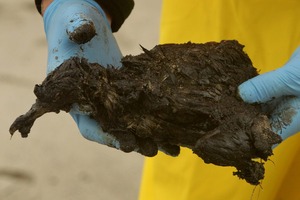 Our worst maritime environmental disaster was an accident waiting to happen, says the author of the first book on the Rena catastrophe.
An experienced senior salvage master quoted in John Julian's book Black Tide, released today, also suggests authorities may have missed a chance to refloat the container ship in the days after it hit the Astrolabe Reef near Tauranga six months ago - a claim dismissed by those involved in the response.
Captain Ian Tew, a former senior salvage master involved in 65 operations around the world, said there was a "real chance" the Rena could have been removed from the reef using tugs, its main engine and heavy swells that pushed the ship onto a sharp list in stormy weather.
"The heavy swell might well have reduced the ground reaction to nothing and the rock she was impaled on might have broken off."
He argued that even if the attempt had failed, it would have been worth the try.
"I knew when this opportunity was lost that I could sit and watch the slow-motion tragedy unfurl with its consequent damage to the environment."
In a written response, Maritime New Zealand and contracted salvage specialists Svitzer and London Offshore Consultants said detailed assessments showed that because the Rena hit the reef at a high speed, it was firmly grounded and had suffered substantial structural damage, resulting in leaking fuel oil.
"Even had it been physically possible, trying to rip the Rena off the reef quickly with tugs when the vessel was so badly damaged would likely have resulted in much more fuel oil and many more containers spilling into the sea," they said.
"It also would have created enormous and unnecessary safety risks."
Julian told the Herald that while he acknowledged the official view, "you are never going to know if you haven't tried".
He was compelled to write his third maritime book after having earlier written to the Government calling for standby tugs in the event of an oil tanker grounding.
"I'm old enough to have seen quite a few of these things happen around the world ... and I suppose that prompted me to go to my publisher and say, 'I think there's a story in this.'
"In the blurb of the book, I said it was the story of an accident that had been waiting to happen for many years - I wouldn't modify that statement as, unfortunately, it probably was." Black Tide is available at bookstores nationwide and can be ordered online, RRP $39.99.