The Herald on Sunday is campaigning to get all of New Zealand out on the beaches this summer, keeping them clean for our kids and our grandkids. We'll be out with our rubbish bags - and we want you and your family to join us.
Make sure you're counted! You can register your support or participation through nzherald.co.nz or at facebook.com/sustainablecoastlines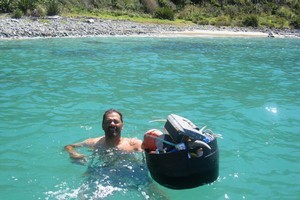 Clean beach campaigners have discovered that not all plastics are created equal - some are much more environmentally harmful than others.
"We do find the worst offenders in terms of products to be food wrappers, foam packaging, plastic bags, and then your drink-bottle caps and lids as well," said Sustainable Coastlines' Camden Howitt.
Different plastics posed specific risks to marine life and our beaches. Brittle and harder plastics degraded with exposure to sunlight. Wave action then broke them down into small shards, which animals ate accidentally.
Plastic bags, PVC packages and the polypropylene from icecream containers and food packaging were also a problem. Polystyrene created specific issues, too.
"Polystyrene ... is not recyclable. It also has the problem of having those little beads breaking off," Howitt said.
Some plastics were recycled more easily than others. PET, commonly used for soft-drink containers, could be turned into goods such as carpets and polar-fleece jackets.
Plastic water bottles illustrated the impact our personal choices were having on the environment, Howitt said. At least 1000 times more expensive than a comparable volume of tap water, plastic bottles of water were distributed prolifically. Auckland used about 252 millon annually - or 690,410 each day. These bottles could take 700 years to partially decompose and a millennium to fully decompose.
Howitt said Kiwis could make a difference by opting for reusable bottles. "The drinking water in New Zealand is some of the best in the world, and yet we've got a huge market for bottled water."
He said it took a marketing genius to convince people to buy bottled water.
Sustainable Coastlines co-founder Sam Judd said consumers should also be wary of "greenwash" - where products that claimed to be eco-friendly were in fact still made largely of plastics or only partially recyclable material.
Set to bust the mess
Beach Busters is at Mt Maunganui this weekend.
Next Saturday, Westmere's Meola Creek gets a clean-up. The crew will meet at Motat in Western Springs with the new Sustainable Coastlines education station in tow to teach visitors more about litter and the marine environment.
Sewerage plant escapers unlikely to be seen again
A strange set of plastic devices found on five beaches had Sustainable Coastlines puzzled last week.
Sam Judd said the plastic cogs washed up at Wellington's Evans Bay, Island Bay, Owhiro Bay, Houghton Bay and Lyall Bay. It was suspected they were linked to overflows at a wastewater treatment plant.
A spokesman for Capacity Infrastructure said Wellington's Moa Point plant could have been the source.
"Our wastewater engineer tells me these are known as MBBRs, for moving bed bio-reactors, or in plain English you might call them bug houses," Alex van Paassen said. "They house the [microbes] used to treat wastewater and may have washed ashore from the Moa Point treatment plant outfall after a flood event."
He said Moa Point had improved flood-management systems and it was unlikely items would escape in future.
YOUR CHANCE TO WIN BIG
Win a camera every week
Take a photo of your friends or family cleaning up your favourite beach and go in the draw to win a Sony Cyber-shot TX10, valued at $649.95. With an Underwater Sweep Panorama function and 16.2 Mega Pixels you'll be able to take stunning underwater photos, as well as crystal clear shots on land. We have one camera to give away every week for the next 10 weeks to the person who takes the best photo, as judged by Herald on Sunday illustrations editor Chris Marriner. Five runners-up will each receive a copy of the book Beached As - New Zealand Beaches Then and Now by Craig Levers.
GRAND PRIZE
At the end of our Beach Busters campaign, the overall winner will receive a grand prize package comprising:
* a Sony Tablet S valued at $749.95
* a dive, snorkel or sightseeing trip for two to the Poor Knights Marine Reserve courtesy of Dive! Tutukaka
* $400 worth of clothing from surf label Sitka.
Entries close each week at Friday noon, and the winning photo will be printed each Sunday. So get snapping, and email your best shot as a JPEG to pictures@hos.co.nz with 'Beach Busters' in the subject line. Make sure you include your name, address and daytime phone number. Include a caption giving the place and full names of the people in the photo.
Please see terms and conditions at www.nzherald.co.nz/HOScompetitions. APN New Zealand reserves the right to store electronically any pictures entered in the competition and to use the images in any of its publications.