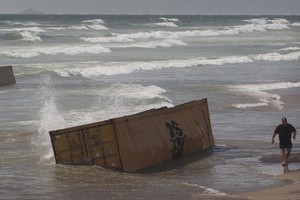 Containers from the wrecked ship Rena could be unpacked on beaches as clean-up crews look for the quickest way to clear debris from the Bay of Plenty shore.
Waihi Beach residents awoke yesterday to find several containers and hundreds of milk powder bags washed up on the shore more than 60km northwest of the Astrolabe Reef, where the Rena grounded in October.
More than 150 containers are thought to have been lost from the ship after it broke in two in stormy weather over the weekend.
Grant Dyson, spokesman for container clean-up contractor Braemar Howells, said the aim was to remove the containers as fast as possible.
That would involve opening them on beaches.
"The fastest, safest approach looks to be pulling the contents out first and then taking the containers away separately when they're of course much lighter,'' he told Radio New Zealand.
Mr Dyson said there were no real concerns about the contents of the containers.
"There was some concern at first about white powder, which turned out to be milk powder. There's timber, there's recycled paper, that kind of thing - nothing that would give you any real concern in terms of hazardous substances.''
About a dozen containers had washed ashore on Waihi Beach by yesterday afternoon, while about 25 containers had beached on Matakana Island by this morning.
"Fortunately this is a relatively sparsely populated bit of coast, but of course we will be working with iwi to try to address that as soon as possible.''
Two tugs and a fast response craft had been out since first light today to round up floating containers.
"The tug's mission is really to try and grab containers before they float towards the shore and pull them away off the coast. Once you get them off the coast they're a lot safer beasts.''
Containers could wash up as far away as Whitianga, some 160km from the wrecked ship, but Mr Dyson said that would be a "worst case scenario''.
"The pattern we've seen at the moment is containers coming into the Waihi Beach, Matakana area - that seems to be the focus.
"We're at the whim of winds and tides though, and a change in winds and sea conditions and the whole thing can be a different scenario.''
Meanwhile, volunteers may not get the chance to help clean up debris, unlike with the oil that washed ashore after the Rena grounded.
Maritime New Zealand spokesman Bruce Fraser said the issue would be raised at a public meeting in Waihi, the purpose of which was to keep people informed and gather feedback.
"We've seen throughout October and November in particular that, further east around the Tauranga beaches, that the community had very high, strong expectations of at least being consulted and for many of them wanting to be involved as well.
"Now it may not be possible to get involved in the clean-up of debris, as it was with oil, but they'll go and have those discussions with the communities anyway.''
Mr Fraser said people were very proud of their beaches and wanted to know what was going on and help out if possible.
- APNZ