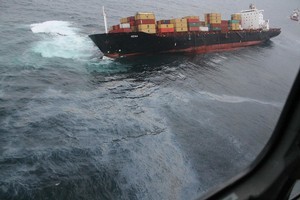 Oil from the stricken ship Rena is continuing to wash ashore at popular holiday beaches.
Maritime New Zealand said a light sheen was this morning extending up to 2.5km from the container ship, which ran aground on the Astrolabe Reef near Tauranga in early October.
The foul weather battering most of the country today is working in favour of clean-up crews, with the wind and swells of up to 4m helping to break up the oil in the sea.
But it was also helping to bring more oil ashore, with further sightings today at Papamoa and Mt Maunganui beaches _ popular spots among the thousands of New Year's revellers who have descended on the Bay of Plenty.
Maritime New Zealand said clean-up crews would be working on both beaches today.
The oil has also had an impact on wildlife, with one newly-oiled penguin picked up today.
The penguin would be fed and stabilised before being taken to the Massey University wildlife recovery centre in Palmerston North.
Wildlife teams last night monitored penguin sites around Mt Maunganui, checking 37 birds, none of which were oiled.
The bad weather has also put a stop to container salvage work, with no salvors onboard the Rena today.
They are unlikely to return tomorrow because the unfavourable conditions look set to continue.
The crane ship Smit Borneo has been stood down and could be repositioned on the port side of the vessel when the weather improves. Other salvage vessels were using the break in operations to refuel at the Port of Tauranga.
The Bay of Plenty harbourmaster today reminded boaties that an exclusion zone of three nautical miles remained in place around the Rena.
Anyone found in the zone could be fined $200 or face prosecution.
They have also been reminded to take extra care around three anchoring sites being used to round up containers that have fallen off the Rena.
There were no containers in the area, but unlit buoys, ropes, chains and anchors could be hazards.
The sites were east of Motuotau Island, also known as Rabbit Island, the western side of Motiti Island and off the coast of Papamoa Beach.
Boaties should look out for response vessels, debris, oil or containers.
- APNZ