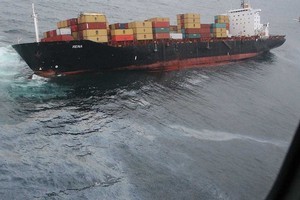 Sharks are disrupting efforts to recover containers spilled from the stricken cargo ship Rena.
Maritime New Zealand said a crew charged with locating containers at East Cape could not work yesterday after their sonar equipment was damaged by sharks.
The crew were back at work today with plans to survey White Island. A helicopter had also been ordered in to check for spilled debris on the shores of Motiti Island, MNZ said.
A total of 17 containers were removed from Rena over the weekend, bringing the number of containers removed from Rena by recovery specialists Svitzer to 227.
There were 1368 containers on the vessel when it grounded at Astrolabe Reef off the coast of Tauranga on October 5.
Stormy conditions and equipment failure have hampered the painstaking container removal operation.
Buckling damage caused by heavy seas is continuing to worsen on the starboard side of the stricken vessel, MNZ said.
Dive crews are monitoring the damage, it said.