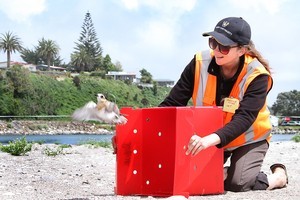 Fifteen dotterels that had been caught to protect them from the effects of the oil spill from the stricken vessel Rena have been released today.
Their habitat on the Maketu Spit has been confirmed clean enough for their return.
The National Oiled Wildlife Response Team cared for the birds in purpose-built aviaries at Te Maunga.
The birds were blessed with a karakia by kaumatua Huriwaka Rewa before dotterel expert John Dowding released them back into the wild.