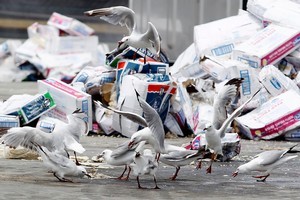 Yesterday, it was fish cocktails. Before that, there were fries, pies and petfood.
And today might bring more meat and vegetables.
"Anything that we'd eat, it gets cargoed," explains recovery leader Jason Loach, as a 250-tonne crane lurches overhead, spilling the last contents of a dangling shipping container like a box of scorched almonds.
Welcome to the Rena's rubbish tip - the place where all of the crippled cargo ship's containers come to be processed.
Stepping into the yard in industrial Maungatapu, Mt Maunganui, the first thing you notice are lengths of piping along a fence, spraying what appears to be steam into the air.
This steam is in fact deodoriser - the reason you're not immediately overwhelmed by the stench of food that has been rotting since the Rena crashed into the Astrolabe Reef nearly two months ago.
Running the show is Braemar Howells, a container recovery firm which handles the 40-foot shipping containers retrieved by salvors clearing the ship's cargo load.
It's the first time the media have been invited into the depot, and a container full of fish that began thawing out on October 5 is being upended especially for the cameras.
As its contents tumble out onto the concrete a flock of seagulls swoops on the waste before a bulldozer disposes of the cartons.
Aside from this scene, the yard is clean, uncluttered - and without so much as a whiff of spoiled meat or a maggot in sight. Thirty-four containers have come through this site, amounting to 600 tonnes of waste.
And by the numbers, the job has only just begun.
The Rena had 1368 containers on board when it lumbered into the reef and, in a storm the following week, lost 88 to the sea.
The company has also been in charge of corralling the containers lost overboard, some of which washed up on Motiti and White Islands and Mt Maunganui and Papamoa beaches.
Salvors making steady progress at sea have removed 166 from the Rena's deck, including a precarious stack on its stern.
Once shipped to port, containers in good condition are returned to the salvors to hold as a form of insurance.
Those which need to be cleared and treated are trucked across Mt Maunganui to the processing centre.
There, Braemar's specialists know exactly what they'll be dealing with from detailed manifests.
Just over 480 of the containers are empty, 32 are known to hold hazardous substances and must be treated with special care, while the rest hold a variety of goods including sawn wood, whey, scrap metal, aluminium alloy ingots, flour, refrigerated live shellfish, cork and wine, cardboard and animal skins.
And then there is household furniture belonging to many anxious clients, among them Craig Fellows, whose Tauranga home will remain half-empty until his container, still packed below the Rena's deck, is picked out.
"If we do get any of these in here, they'll receive due care and attention - anything we can do to save, we will," said Mr Loach, the team leader.
He said his team tried to avoid stepping inside the containers if they can.
"Obviously, we don't want to end anyone's life by leading them into an environment they shouldn't be in - so if we can use the machinery, we will use the machinery."
When they had no choice, recovery workers sprayed down the containers with odour-control chemicals before starting on the contents.
Containers that can be recycled are sent back to the shipping company - but not before they've been thoroughly washed and sanitised.
Those that are otherwise damaged are either repaired or disposed of as scrap.
"Every container is completely different and has to be handled accordingly ... and that's the way we'll do it until it's finished."
When will that be?
"Until the last box comes off the ship - if you can tell me that, then I'll tell you when I'm going home."