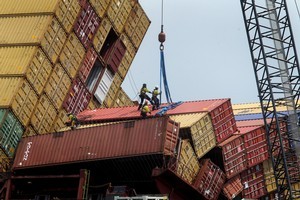 Container salvage work on the stricken ship Rena will likely go on hold over the weekend as bad weather brings swells of up to 3 metres.
The weather yesterday prevented salvors removing any containers from the ship, which grounded on the Astrolabe Reef off the Bay of Plenty coast in early October.
The weather over the weekend is expected to worsen, with heavy rain, winds of up to 25-30 knots and swells of up to 3m on Sunday night.
Maritime New Zealand said it was unlikely any container recovery operations would take place over the next few days.
The crane barge Sea Tow 60 was anchored in sheltered water near Motiti Island while salvors waited for clearer weather.
Salvors have been winched on board the Rena today as the sea swells did not allow them to board from vessels.
They will focus on patching up damaged sections of its hull to aid stability, with work on attaching the port side patch beginning this morning.
A narrow sheen of light oil, about 30-40 metres wide and 3km long, was still coming from the vessel, but there was no change to the ship's fragile state overnight.
Container recovery contractors from Braemar Howells were today working to locate and recover container debris around the shoreline on White and Motiti islands.
Oil spill response teams were working at Mt Maunganui to clean up residual oil from the rocky shoreline with warm water.
Clean-up teams were also working at Moturiki and Matakana islands, while volunteers were cleaning up on Papamoa Beach and Te Tumu.
Wildlife teams would today assess whether Maketu and Moturiki were ready for the safe release of wildlife.
About 15 dotterels will be released at Maketu tomorrow afternoon.
- APNZ