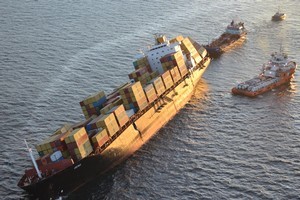 Frustrated salvors have been unable to pump the final tonnes of heavy fuel oil from Rena today as their efforts were repeatedly thwarted by trapped air bubbles.
Maritime New Zealand (MNZ) salvage advisor Jon Walker, of London Offshore Consultants, said the team have been trying to pump 358 tonnes of heavy fuel oil from the submerged starboard wing tank today.
But every time the salvors began pumping, they encountered pockets of trapped air and had to spend hours clearing and resetting the system before they could try again, said Mr Walker.
He said the process was extremely frustrating.
MNZ Unit Salvage Manager Arthur Jobard said the salvors had also traced the source of seawater which had been preventing the removal of the remaining 20,000 litres of lubricating oil from the engine room storage tank.
Salvors were in the process of sealing the vents and would resume pumping the lubricating oil as soon as that was finished, he said.
Divers report that there is no apparent change in the condition of the Rena's hull.
Efforts continue to locate and remove wreckage and debris from the containers lost overboard from Rena in a storm three weeks ago.
Container removal contractor Braemar Howells used a helicopter to remove 51 cubic metres of debris from Motiti Island yesterday.
National On Scene Commander Rob Service said work to clean up oil on the beaches had continued today, with a combination of New Zealand Defence Force personnel, trained oil spill responders from around New Zealand and Australia, volunteers and contractors.
One of the most heavily oiled areas of Papamoa beach was the scene of a surf washing trial, which Mr Service said had gone well and would be continued tomorrow.
"Surf washing is a well established technique, which is being used for the first time in this response. A light bobcat digger excavates sand and deposits it at the water's edge, where natural tidal movement separates out clumps of oil, which are then collected.''
Further trials of the Beach Tech Marina machine went well this morning and MNZ operations staff were looking at possible modifications to the equipment to make it more effective, Mr Service said.

- APNZ