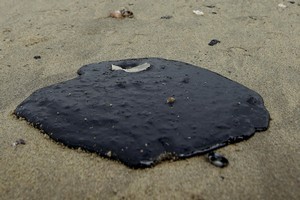 People on Mt Maunganui beach are being urged to get out of the water if they see oil. Photo / Alan Gibson
Authorities say environmental monitoring after the Rena disaster could carry on for several years, and the clean-up bill has reached $14 million.
The growing cost is being met by Maritime New Zealand while liability talks continue between the Government and the stricken vessel's owner, Costamare Shipping, which has refused to say whether it will cover the entire bill for the disaster.
Yesterday afternoon, the bunker barge Awanuia returned to load oil and lubricants left in the Rena as salvors edged closer to the hard-to-reach starboard side tank holding the last 358 tonnes of oil on board.
Environmental officers have also been on board assessing noxious fumes from rotting cargo inside containers holding perishable food.
Maritime New Zealand salvage unit manager Bruce Anderson said the team of 22 salvors on board was keen to take advantage of fine weather forecast for the next few days.
About 170 volunteers were on beaches cleaning up yesterday, and wildlife experts were cleaning the last of 406 oiled birds and animals at the Mt Maunganui response centre.
Fresh oiling found at the high-tide mark at Mt Maunganui beach was thought to have surfaced in this week's storm and locals were being urged to get out of the water if they saw oil.
A recovery plan being developed by authorities involved a year-long timeframe, but some areas known to have received oil and container debris could need monitoring for several years, said Bay of Plenty Regional Council science manager Rob Donald.
"We will not be aware for some time of the full impact on the Bay of Plenty coastline of the Rena grounding, and monitoring will be our best way to understand the impact on our beaches and marine life."
Monitoring immediately after the October 5 grounding involved baseline sampling of water, sediment and seafood before the oil affected the coastline and offshore islands.
"These samples are being analysed and the results will be compared to samples that are known to have come into contact with the oil," Mr Donald said.
But Bay of Plenty health authorities were still urging people not to collect shellfish, crabs, crayfish, kina and seaweed in the area until further notice.
Mr Donald said that although the best view was to hope for the best and expect the worst, oil in the water would gradually become less harmful because of wave action and biological activity.
But until the last tank's 350-tonne load was emptied, there was always the threat of more oil washing ashore.
"I keep saying to people that this event is not over yet, so we can all keep speculating about what the effects might be, but until we've got the oil off the ship, it's a bit pointless."
The disaster's effect on Maritime NZ's funds and resources would also be unknown until the crisis was resolved.
A spokeswoman said the body's "funds and capability" would have to be reviewed because of the incident.
The Government was already looking into Maritime's funding levels after a value-for-money review last year found it was under "increasing pressure" to carry out a broad range of functions within its current resources.
While a review showed oil spill response capability was "pitched at the right level", its oil pollution levy revenue needed to be increased.
About $4 million is available through Maritime's oil pollution fund.
Further money had to be drawn from the National Response Plan.
Outlook
* 1 month - tomorrow's anniversary of the Rena disaster.
* 6 weeks - time affected businesses will receive state compensation from Monday.
* 3 months - the further period oiled wildlife may be kept captive for protection.
* 6 months - the window for the Government to prosecute the ship's owners.
* 1 year - the timeframe of a Government recovery plan now being developed.
* Several years - possible time environmental monitoring will have to continue in worst-hit areas.