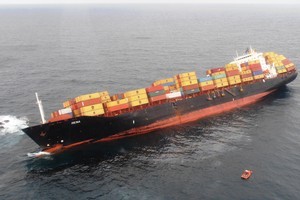 Government prosecutors who this morning laid fresh charges against the captain and navigational officer of the Rena also have their sights on the stricken ship's owners.
Costamare Shipping could also find themselves prosecuted, according to Environment Minister Dr Nick Smith today.
The new charges under the Resource Management Act laid against the pair carry financial penalties of up to $300,000 for an individual and up to $600,000 for a company.
Dr Smith said the Government had a six-month time-frame to pursue a prosecution against the company, "and that is something officials are looking at".
"The Government is of a view we need to throw the full force of the law at those responsible, not only for the deaths of over 1400 birds but also pollution to tens of kilometres of beaches," Dr Smith said.
"In fact, it would be remiss given that it is New Zealand's worst maritime environmental disaster if there was not a prosecution under the RMA."
Crew in court
The Rena's skipper and second officer - who have their identities suppressed - faced one charge under the Resource Management Act relating to the discharge of harmful substances from the ship when they reappeared in Tauranga District Court this morning.
They had been charged earlier by Maritime New Zealand under section 65 of the Maritime Transport Act for operating a vessel in a manner causing unnecessary danger or risk.
The captain's lawyer Paul Mabey QC told Judge Robert Wolff that his client had been served in relation to the fresh charge early this morning.
Mr Mabey said he had received only a draft summary of facts from the Crown and there was a lot more information to come about the charges.
He said his client should be further remanded on the same bail terms until December 21 and it was possible on that date he may be in position to indicate "where these matters were all going.''
He sought continued interim name suppression for the captain.
The second officer's lawyer Mark Beech sought the same orders.
Judge Wolff further remanded the two defendants on bail until December 21, and confirmed the suppression orders in place would continue until further notice.
Ship still intact
Meanwhile the Rena has held together overnight, despite fears the stricken container ship was finally about to break.
Officials had been nervously watching Rena's deteriorating condition and last night expecting the worst - Transport Minister Steven Joyce put the odds of the ship smashing apart amid foul weather as "greater than 50/50".
A storm enveloping the already battered cargo vessel was forecast to have brought swells of up to 5m overnight, prompting fresh warnings of oil spills and more lost containers.
However Maritime New Zealand's assessment this morning is that the ship is intact.
A flyover, which had been postponed this morning due to the weather, has now confirmed the ship is still in one piece and no further containers had fallen overboard.
There has been a further spill of oil, but MNZ says it is not "significant".
High winds and swells are still buffeting the ship.
Meanwhile Environment Minister Dr Nick Smith has revealed authorities would have been aware of the scale of the disaster soon after the vessel struck the reef.
"At 2.20am, when the Rena hit that reef, in my view, an oil spill was inevitable given the extent to which the underside of the vessel was so badly damaged," Dr Smith told an environment debate in Auckland last night, Radio New Zealand reported.
This prompted criticism from Labour and the Greens, with Green Party Labour co-leader Russell Norman questioning why clean up equipment was not brought in sooner if an oil spill was expected.
Dr Smith dismissed the opposition parties' criticism of the authorities' response as "ill-informed and unfair on people that are trying to deal with an emergency situation".
Response teams prepared
National on-scene commander Mick Courtnell said the oil spill response team was ready to act if any oil came ashore.
Any leaked oil was predicted to move past the west of Motiti Island and reach beaches between Papamoa and the Maketu Peninsula.
Around 150 New Zealand Defence Force personnel are available for clean-up operations if needed today, along with about 250 volunteers.
About 40 oil spill specialists were due on the beach at first light to assess whether any oil had reached the shoreline.
Mr Courtnell said, "At this stage our modelling indicates around a 12-hour window between oil being released and any oil reaching the shoreline."