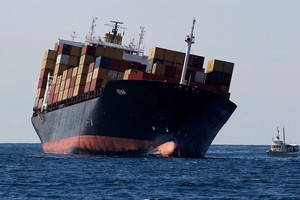 Thieves have made off with anchors from a boom protecting an estuary from the Rena oil spill.
Maritime New Zealand national on-scene commander Nick Quinn said the theft at the Waikareao Estuary yesterday had hit a sour note with the clean-up response.
"It's extremely disappointing and frustrating to see this kind of behaviour from a few idiots, when so many others are working extremely hard to clean up the oil spilt from Rena and protect the beautiful Bay of Plenty coastline from more harm,'' he said.
Clean-up efforts continue on Bay of Plenty beaches today, with Maritime New Zealand calling for more volunteers.
Mechanical beach-cleaning equipment, including sand sifting and tilling machines, was given a trial run yesterday.
Mr Quinn said the trials had been largely successful but the nature of the oil still washing up meant manual labour remained the best method of removing it.
"Because we've got old oil that is remobilising on the shoreline, we still need lots of hands and bodies to sweep the beaches and pick up these weathered, tarry globs of oil.
Once this is done, the next phase can focus on mechanical recovery,'' he said.
Mr Quinn said while volunteer support had been outstanding, more people were still needed to help clean beaches over the coming days and weeks.
"We appreciate that people have busy lives, and that it's more difficult for people to get away during the working week to give us a hand.
"But if anyone can spare a few hours, either during the week or over the weekend, we'd love to have you come and help us. This is going to be a marathon - not a sprint.''
Mt Manganui beach down to Tay St would stay open this weekend but other local beaches remained closed as old oil continued to come ashore.
Meanwhile, pumping from the Rena's two settling tanks was temporarily halted at 5am today after salvors found water rather than oil was starting to be pumped from the tanks.

The problem was being investigated.
Work on gaining access to the starboard tank of the Rena and the construction of a dam to seal off the area was still progressing.

- APNZ