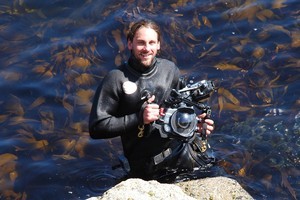 Those who have volunteered to help mop up the oil are giving up more than just their time.
Shane Wasik is selling his "once in a lifetime opportunity" to see the All Blacks' Rugby World Cup semifinal.
"It's pretty much 24/7 at the moment ... it's pretty disappointing that I can't go, but I can't not help here," he said.
The 30-year-old lives opposite the beach at Mt Maunganui and is the president of the New Zealand Underwater Association, a local diver, underwater photographer and marine biologist.
On Friday, Mr Wasik joined the Rena crisis team and dived for two days collecting data on the reef and marine life because it would "never be in the same condition again".
"It was just unbelievable to see the amount of oil and dead animals washing up. The beach is covered - there's just a thick, thick blanket of oil."
But his involvement in the clean-up means he won't be able to use the two tickets he bought for $797 each.
"For the average Kiwi, ... it's been pretty hard trying to sell them."
Mr Wasik said he had no choice but to stay in Tauranga this weekend.
"It's a once in a lifetime opportunity. ... but you've got to do your duty."
Mr Wasik and his partner, Nikki Limond, also had tickets to last weekend's two quarter-final matches at Eden Park. They couldn't get to the Saturday night match because they were too busy but were able to just make the All Blacks game against Argentina.
"We finished up with Rena on Sunday afternoon, then drove up to Auckland to see the match.
"Then we drove back down in the middle of the night and got home at 2 o'clock then were up at 6 o'clock in the morning to get back into it on Monday."
Mr Wasik said it was heart-breaking seeing what had happened to the beach he loved so much.