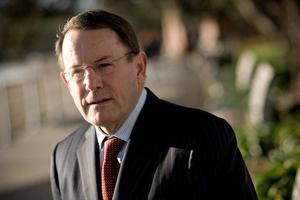 A clandestine methamphetamine lab found on one of the country's poshest streets shows the drug can make its way into all communities, street resident and Auckland City Mayor John Banks says.
Nine people, including six police officers, went through decontamination showers today after a raid on the lab on Victoria Avenue in the suburb of Remuera.
The three others were at the Remuera house when a search warrant was executed this morning, police said.
Sergeant Greg Rawbone said the two men, one of whom lived at the property, and a woman were due to appear in Auckland District Court tomorrow on drug-related charges.
The street is home to many of the country's rich and famous, including Mr Banks.
"Methamphetamine and its evilness could come to your family today, tomorrow, next week." Mr Banks told 3News.
"It is a war that we need to fight on all fronts."
Drug educator Mike Sabin said the location said the location showed drugs were filtering through to every level of society.
"If you're going to manufacture (drugs) and don't want to draw too much suspicion, then I guess the idea that you're doing it in a neighbourhood where you're paying exorbitant prices for rent or property is a good place to start."
Mr Rawbone said a quantity of methamphetamine was seized and the laboratory, which was operational when police arrived at 7.30am, was being dismantled.
The townhouse-style building, which was in a row of similar residences, had been of interest to police for a short time, he said.
Some information about the alleged activities there had come via the 0800 Crimestoppers phone line, which was set up in October to allow members of the public to ring in anonymously.
- NZPA