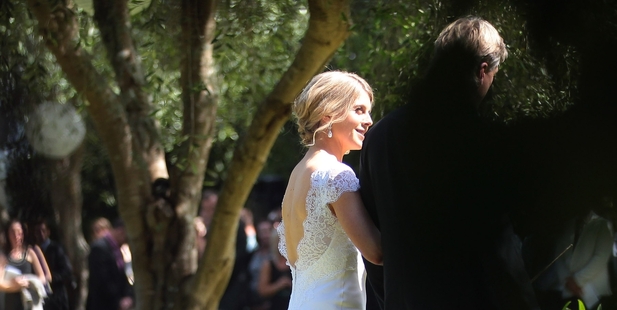 Usually, Conrad Smith plays centre for the All Blacks. But this weekend, as the rest of the team packed their bags to fly to Japan, Smith shared centre-stage with his beautiful bride.
Smith yesterday married his girlfriend Lee-Anne Snowdon beneath white lanterns at the tiny Taranaki settlement of Oneao Beach, in an intimate ceremony with 150 friends and family.
While fellow All Blacks prepared to fly out, and his Wellington Lions teammates prepared for their ITM Cup final against Canterbury yesterday, Smith, 32, had a quiet start to his big day
"He's hanging out with the family," his paralympian brother Nathan told the Herald on Sunday before the ceremony. "He's well settled, all chilled."
A relaxed-looking Smith, wearing a striped black suit, arrived at Waiau Country Estate, northeast of New Plymouth, at 2.30pm.
Most guests came by bus, as inquisitive neighbours peeked through bush at the back of the sprawling orchard estate, a natural choice for the Taranaki couple.
Snowdon, a blonde beauty therapist, arrived 45 minutes later in a classic silver Rover.
She wore an elegant ivory gown with a plunging back, scalloped lace trim and a modest train. Her hair was pulled back loosely and set off by antique-style drop pearl earrings.
The bride carried a bouquet of pink and cream roses to the altar in a glade of olive trees, surrounded by thick bush. Pink, white and blue posies on tables were prepared by local florist Petal & Prickle.
Smith is on sabbatical from All Black duties. With his All Black teammates due to fly out this weekend, and his Wellington Lions teammates playing last night, none were spotted at the wedding.
Smith and Snowdon did not sign a deal with a women's magazine and staff at the venue declined to comment as they had signed confidentiality contracts.
But earlier this week, Smith reportedly joked to an audience at a community breakfast in Stratford about the pitfalls of organising his nuptials. "I've got a wedding to prepare for and I know there are a fair few fathers who have been through that and all you little ones can look forward to it one day," he said. "I'm telling you, it's over-rated."
Snowdon is a former New Plymouth Girls' High student and Smith attended Francis Douglas Memorial College, across town. Last year, the couple took a three-month trip to Bolivia, Peru, the Netherlands and Sweden. They spent a week at a Kenyan refugee camp, where 900 displaced families were living in tents after tribal violence following the 2007 elections.