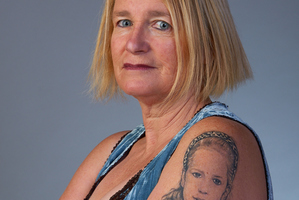 Tracy Mulgrew's only daughter Jessica is never far from her thoughts - and a tattoo on her upper arm ensures others, too, are reminded of the little girl whose life was cruelly cut short by cancer.
The last professional photograph taken of the cheeky blonde-haired girl in 2000 is replicated in picture-perfect detail on the devoted mum's skin.
For Tracy it's a way of keeping her memory alive after her 10-year-old succumbed to an aggressive form of myeloid leukaemia.
She had always wanted a tattoo to remember her daughter by and initially looked at getting something that captured the spirit of her "girly girl" eldest child - a colourful butterfly or fairy - but then she spotted a stunning portrait tattoo on another woman.
Before long she had sought out a talented tattooist and selected the portrait which would be permanently imprinted on her skin.
"I had a lot of people telling me not to; that there were other ways to remember her by and that they didn't like tattoos and I'd be defaced for life."
But the loving mother noticed family and friends gradually forgot key anniversary dates in her late daughter's life and that made it imperative to do something to keep Jessica in their thoughts.
She went ahead with the tattoo, her first and only, and treasures it.
"I'm glad I did it because I get so many people admiring it. They ask me about it and I tell them about Jessica so it keeps her alive for me."