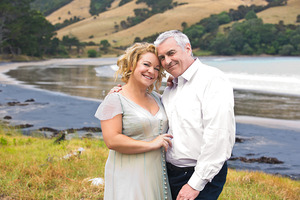 Observant readers (and I'm not expecting there to be many on Sunday mornings) may have noticed my byline has changed this week.
Say goodbye to Kerre Woodham and good morning to Kerre McIvor.
I've been Kerre Woodham for 48 years and for all of my professional life - but since I was married a month ago, I've decided to take my husband's last name.
I'm amazed at people's reactions - and the fact they even have an opinion on my surname.
What does it matter what I call myself?
As Kim Dotcom has proved, you can call yourself whatever name you want to, no matter how ridiculous, and people will use it.
The majority of listeners to my talkback show and readers of my magazine column, those who expressed an opinion, were delighted I was going the whole hog in the honest-woman stakes and becoming Mrs McIvor.
Some people wanted to know what my various employers thought, given that I'd built a career in the media under Woodham (all fine, thank you - although it took the Herald on Sunday slighter longer than the others to come round to the idea!)
There were a couple of woman emailers who felt I was a sell-out - submissively acquiescing to an outmoded patriarchal construct.
Why, asked one writer, could he not have taken my name?
Well, in a way, over the past 16 years we've been together, he has, actually.
As the silent partner in this relationship, most of the mail is directed to the Woodham household. Our dog is registered at the vets as Toby Woodham.
Tom McIvor is invariably referred to as "partner" or included under the heading "The Woodhams" in invitations.
He's had 16 years of being the other and so I think it's only fair that I have a few years of being McIvor.
Besides, I like the idea of being Kerre McIvor.
I sound like the sort of person who blues my sheets and always writes thank-you notes. Capable. Dependable. Resourceful.
I don't think it's a coincidence that the vast majority of my personal and professional successes have happened in the years since I met Tom.
We're a team - and becoming Mrs McIvor is the best way I have of showing it.
PS: All very noble, I know, but I do wonder if I'd feel quite so strongly if Tom's last name was Proudfart.

Editor's note: As usual, you've talked me around in the end.