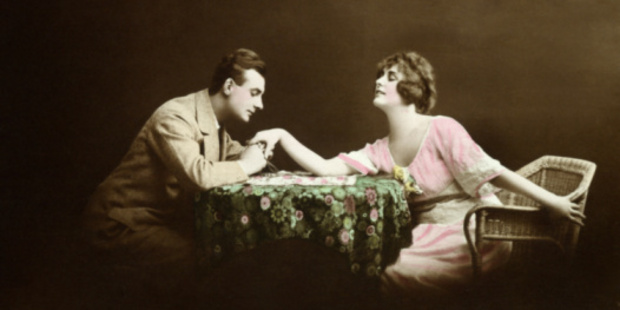 Female teachers like firemen, jobless men are into personal trainers, and male retirees and admin assistants are an unlikely match. According to a survey by US dating site eHarmony, that is. Delving into pseudo-scientific research to better shunt couples together, the company looked at "online dating communication trends" to determine how our professions affect who we date.
The key finding was that the couples most likely to date had completely different jobs: "When it comes to who's talking to who, most people are looking to talk to someone who does something different than themselves" says an eHarmony spokesperson.
HOWEVER, hard-hitter the Daily Mail reports that there are critics of this theory.
Namely, a publicist from Texas called Karen Frost, who once got together with a paramedic called Ken, except they "didn't know the same people", so it ended. Even though on "an emotional, soulful and spiritual level", Ken "fit the bill".
Oh, Karen.
For ultimate ease in the dating world, try approaching male soldiers, retired men, skilled tradesmen, and students. Or female students, women who work in "food services", skilled tradeswomen, and retail staff. They are all the least picky.
Inversely, avoid male engineers, analysts, lawyers, web developers, and bankers; female marketers, business executives, analysts, lawyers and teachers. Because pick, pick, pick.
The most unlikely matches of all include doctors and students. Also, artists and students - presumably because humans need to eat. Job combos that lead to the highest number of dates include female business executives and male marketers, as well as female business execs and male engineers. Which - incidentally - is bad luck for male soldiers, who are really keen on business execs.
Female doctors speak the most with male bankers, but male bankers are most likely to communicate with teachers. Stay-at-home mums like dentists, and self-employed women like barbers. (I am yet to be struck by the number of freelance women chasing barbers, but what do I know.)
Finally, male pilots want to date beauticians, and male personal trainers like women in advertising, which I had TOTALLY already figured out just from going to Les Mills. And again, to be clear: if you are a single, female personal trainer, single unemployed guys are the go.
Good luck out there!
Follow Rebecca Kamm on Twitter.
Debate on this article is now closed.