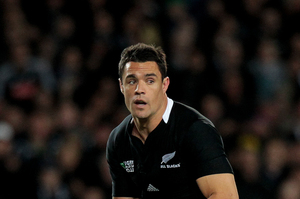 The mum of one of New Zealand's favourite sons says the best gift she could get for Mother's Day is quality time with her kids.
Bev Carter, mother of All Black superstar Dan Carter, told the Weekend Herald she felt tomorrow's occasion could be too commercialised, when "it is the simple things that matter".
"I think mums would rather have some time with their children more than any presents or anything. I think it's important to catch up and spend some time together," Mrs Carter said.
"So we had a meal last Monday night, a family get-together with Daniel and his sister, and they cooked, and it was really nice."
Dan and his sister Sarah made lamb shanks for the family. Both are better cooks than their mother, according to Mrs Carter.
The early Mother's Day celebration was because Dan will be in Melbourne this weekend with the Crusaders for their Super 15 rugby match against the Rebels and Sarah will also be away.
"But they will both ring on the day. There might be a card or a voucher or some Lotto tickets, but nothing too big," Mrs Carter said.
Mrs Carter, a school teacher, believes simple gestures like breakfast in bed, or "just some time out for mums with little children" can go a long way.
Meanwhile, a survey by navigation firm TomTom has 75 per cent of Kiwi mums saying that being together as a family is the best part of a family trip.
And another survey, in Save the Children's 13th State of the World's Mothers report, has rated New Zealand fourth in the world as the best place to be a mother.
Dial mum free
Telecom is offering free calling to any New Zealand home line from its phone boxes tomorrow. Mother's Day has 19 per cent more calls than the usual Sunday.