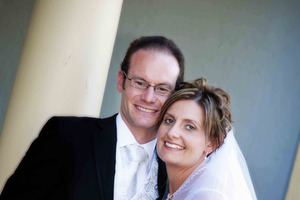 Post-quake Christchurch is in the middle of a wedding boom.
Venues, planners and celebrants are flat out with couples who have adopted a "why wait" attitude after a shaky year.
Wedding planner Emma Newman said couples were getting creative with venues because many churches and hotels were still damaged.
"There is a lot of love in Christchurch at the moment and the industry is so busy," Newman said.
"People have lost their homes or have lost friends and they just want to get on with it."
Newlyweds Sarah and Brent Fogarty lost their first wedding venue at Godley House in Lyttelton in the September quake. They lost their second venue, The Poseidon Restaurant, when it became a civil defence headquarters after the February quake. They eventually married at Heritage Hanmer Springs a month after their planned date.
"It's lucky I like planning because I basically had to plan the wedding three times," Sarah said.
Celebrant Helen Chappell said more couples wanted the security of marriage after an uncertain year.
"The earthquakes have changed priorities and people who were happy just being together now want to be married," she said.
With 50 per cent of venues still closed after the quakes, John Baker of Darjon Vineyard was three times busier than normal.