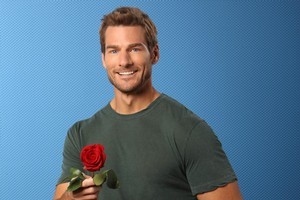 If you were single, attractive and tired of dating, would you a) try to find a life partner on a TV show, b) compete for that potential life partner with 29 others, c) aim for a vivid first impression by jumping into their arms, slapping them in the face or wearing fangs, or d) all of the above. If you answered d) then step on up to star on The Bachelor, (Fridays, 8.30pm, TV2) a show as worthy as Keeping Up with the Kardashians, yet so compelling I'm willing to sit through the weekly two-hour cringe-a-thon.
If it wasn't for The Bachelorette, in which the gender tables are turned and 30 men compete for the affections of one woman, you'd think you'd tuned into a polygamist beauty pageant. And yes, there is a contestant from Salt Lake City, although Michelle is too evil to be a Mormon.
The Bachelor craps on social norms. At every turn, in every undignified rose ceremony, the viewer is left asking the same thing: why? Why would you sign up to be emotionally tortured? Most of the contestants wind up giddy with butterflies when Texan millionaire Brad Womack tells them they're special, only to fall into depression when they see him playing tonsil hockey with his blonde girlfriend, or his redhead or the one with the black eye.
(Michelle again. Must be an actor.)
Sometimes the questions are more perplexing. Why don't they ever talk about anything? Why am I still watching this when I accidentally on purpose saw who wins on the internet?
The biggest why, and the cornerstone of the show, is, why do all the contestants automatically fall for The Bachelor himself? The last time this master manipulator was on the show four years ago he became America's most hated reality star after rejecting all the contestants. He was supposed to ask at least one to spend eternity with him, or at least the time it takes for the pair to flog a story to a tabloid. Clearly the show's not going to work if even one of the women doesn't find The Bachelor attractive or a prospective mate, and yet most women TimeOut canvassed thought Brad had the personality of a potato. But I bet that if you were put in that situation, where your sole purpose was to gain the attraction of the single male or female in the room, you would find yourself feeling hot and bothered every time he or she looked in your direction. Perhaps it's the competition, the ego that drives these women to fall for this guy, not to mention his tricks to charm them into feeling good about themselves. This is how Brad, who has been in therapy for three years, and who needs the help of his therapist to get a wife when he's got 30 women practically disembowelling themselves to get his attention, got one victim on side: "Please be confident in the fact that I am so wildly attracted to the fact that you are everything I have not been with in my past." Wow.
Perhaps The Bachelor is just an extreme way of seeing where you fit in the social strata. Here's a contrived cross-section of babes with whom to compare yourself. A wise person once said that when you fall in love, essentially you're falling in love with yourself. That's even truer on TV.
-TimeOut