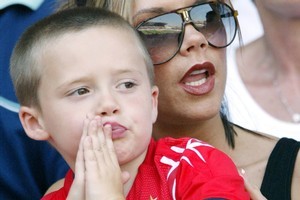 David and Victoria Beckham are expecting their fourth child, it has been announced.
The former Spice Girl's rep confirmed the news today, saying Posh is due in the European summer, but declined to give a more specific due date or say how far the pregnancy was advanced.
The couple already have three sons - Brooklyn, 11, Romeo, eight, and Cruz, five.
"David and Victoria Beckham are delighted to confirm they are expecting their fourth child in the summer," the rep told People.com.
"Brooklyn, Romeo and Cruz are very excited about the arrival of their new brother or sister."
The Beckhams have often spoken of their desire to add to their brood. Posh said during an appearance on The View last year.
"I think one day, if we're blessed to have more children, it would be amazing," she said. "It's a lot having three boys. So, we're just enjoying the boys at the moment. But who knows, one day?"
She also told the February issue of Vogue magazine, "Maybe one day another baby, but at this stage I think the chances of a girl are quite slim."
And last year, David said: "I really want more kids and I hope it happens soon. I want a little girl. That would be amazing."
The couple currently lives in Los Angeles, where Beckham plays for LA Galaxy. However, there has been suggestion they are considering a return to their Hertfordshire home.
Meanwhile, Posh thinks that having a long-distance relationship is the secret to a happy marriage.
The singer turned fashion designer told Britain's Vogue magazine having a trans-Atlantic marriage stops her and her soccer stud from drifting apart.
She said: "Maybe that's why we're not bored with each other after 11 years."
Posh also said she enjoys living in the US, because the couple are generally left alone.
"To be honest, no-one's that interested in us - not when Tom Cruise is down the road," she said.
"Tom and Katie are really kind people. We'll have a more relaxed Sunday afternoon round at their place with all the kids than we would if we went round to some of the parents from school."
Congratulations, Posh and Becks!
Blogger Bites Back
* Read more celebrity news and gossip from Myrddin Gwynedd (MG) here