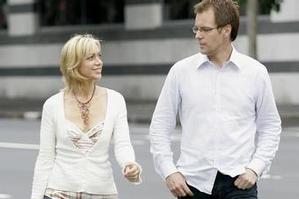 Don Brash wants to resurrect his marriage; Ali Mau and Simon Dallow are to reunite in America; and Petra Bagust and her hubby have been in counselling.
It's all happening on the celebrity love match front - just about the only one who remains absolutely single is Rachel Hunter, who's been in New Zealand for a few days, but saying nothing about her breakup with fiance Jarret Stoll.
News presenters Mau and Dallow - who announced in June that their 13-year marriage had broken down - are planning a family holiday with their children in the United States.
Mau, who had her last morning as Breakfast co-anchor on Friday, is meeting her sister and mother in New York, before flying to Los Angeles to join Dallow and their kids Paris, 11, and Joel, 8, for a five-day holiday in California, visiting Disneyland and Universal Studios.
"I'm delivering on a promise given a long time ago to take the children to Disneyland," Mau said.
Dallow, who appears to be enjoying life as an eligible bachelor, told the Herald on Sunday, "We can be friends... we're moving on as friends."
The couple emphasise the planned holiday is not a reconciliation. "They will be staying in separate rooms, separate beds," a TVNZ source reiterated.
Meanwhile, Don Brash told the Herald on Sunday he was hoping to rekindle his relationship with estranged wife, Je Lan.
The couple separated in 2007 after 18 years of marriage but were together last week at a fundraising party given by Dame Jenny Shipley for her Namibian Educational Trust.
Despite arriving as a couple, Brash said they were "not quite" back together. Je Lan lives in the Glendowie house the pair once shared, and he remains at his apartment at the Viaduct.
"I am hoping to get back with her, but it's not proving easy," he said. "I hurt her very badly. But I've been working on getting back together with her for a while. Let's just say I'm cautiously optimistic."
Je Lan was more coy. In a text message she said: "I would prefer not to comment. Thank you for the opportunity."
More successful at making their marriage work are former celebrity virgin Petra Bagust and husband Hamish Wilson, who have had counselling. "You marry someone who comes from a different family, with different experiences of relationships and it can be hard to make it work," Petra told this week's Woman's Weekly.
The couple said counselling taught them to use a "code word" to stop a fight from erupting when tempers become frayed.
"If we are out somewhere and one of us gets frustrated with the other, that can just snowball into an argument," said cameraman Hamish. "Using the code word says 'hey, I'm behaving like an idiot just now but it's okay, we'll sort it out later'."
Petra also said she used to smack her children but decided to stop after the new law came in.
"I didn't like losing my temper and shouting, and I didn't like how I was using smacking either," she said. "The law got us thinking and we found new options."