Maritimo's new boat is much more than a slightly larger version of their popular M48.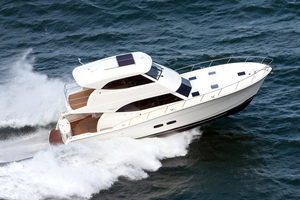 As any manufacturer knows, it is a risky business messing with success. Popular products got that way for a reason and changing them, however slightly, can be fraught.
Yet successful manufacturers got that way for a reason, too: they are never willing to settle for okay if much better than okay is an option.
This was the dilemma facing successful Australian big boat manufacturer Maritimo. Their M48 flybridge cruiser has been a great success for the company. More than 100 have already been sold and to countries as diverse as Italy, Spain, the UK, the US and the UAE, as well as at home in Australia and over here.
Yet now the M48 is gone and its replacement, the M50, doesn't, at first glance, seem much different. Obviously, it is a little longer and a little beamier too. But how much difference can that make?
Apparently, quite a lot. One of the first M50s out of the mould was sent from Maritimo's Gold Coast headquarters on a rather elaborate sea trial south to Sydney.
Along the way, the new model showed that, not only was its sea-keeping as good as its predecessor's, its fuel efficiency was significantly better too. Fitted with exactly the same engines (Cummins QSM11s) and exactly the same drive train (shaft drive with conventional props and rudders), the new M50 used 10 per cent less fuel to complete the same voyage as had the M48.
More detailed efficiency tests on a M50 sister ship (with twin 670hp Volvo Penta D11s) show that, at 7 knots - a good speed for towing skirted lures - total consumption is just 11 litres per hour. This increases to 18L/hr at 8 knots and to 25 L/hr at 9 knots. Now that is remarkably good, even in a displacement cruiser, let alone in a 22-tonne 16.15m LOA flybridge launch.
On the plane, the sweet spots seem to be in the 15-18 knots range. At 17 knots, the fuel burn is 110L/hr, while at 20 knots it is up to 146L/hr and, at 25 knots, 200L/hr. Full speed is a touch under 30 knots (and just a touch) but one wouldn't want to stay there long, fuel consumption at that speed is 260L/hr.
The M50's interior configuration is similar to the M48's. Both feature an internal staircase and wide side decks, although the latter have been enlarged slightly to make it even easier to go forward.
The main improvement, however, is the new full-beam master stateroom below the saloon. This is an incredible 3.3 times bigger than on the M48 and features an entry foyer, complete with bureau-cum-desk, a domestic-sized en suite bathroom and a king-size bed set at an angle from the port side (rather than straight along the centreline or across the beam as is usually the case).
This unusual arrangement certainly has its advantages, chief among them the amount of space it creates - in this case, for a sizeable private lounge-cum-retreat along the stateroom's starboard side.
This new master stateroom is certainly an impressive improvement and one that is likely to pay big dividends for the company. As leading Australian marine writer Warren Steptoe has already noted: "This will sell a lot of M50s."
As with the M48, the designers have left enough room below decks for a spacious double berth VIP cabin in the bow and a smaller bunk-type cabin along the starboard side of the companionway. Both share a second bathroom that is only marginally smaller than the main en suite.
As is increasingly becoming the case, the galley is correctly located at the aft end of the saloon and, with the new bi-fold doors open, can easily service both the M50's interior and its cockpit. An interesting feature of the galley is the way the dishwasher has been set up "island style", slightly off centre in the galley's floor space. Here, adjacent to the to and fro traffic, it can do duty as both an additional preparation bench and a handy serving space.
From the galley, one steps up to the lounge/dining area (ensuring good headroom below in that master stateroom). Ingeniously, the dining table can fold out (to accommodate more diners) or compact (to create extra lounge space). Other features of the saloon include a wine rack, a bar fridge complete with an icemaker (there is a second icemaker in the galley freezer, in case this one cannot keep up) and an impressive glass rack.
The flybridge, reached by an internal staircase, features a pair of adjustable Recaro seats at the helm, enough dash space for three 15in MFD displays and a roomy open-air aft deck, great for a barbecue.
The flybridge overhang also provides excellent protection for the cockpit below, although it does make it impossible to see down there from the helm. However, as the M50 is not a serious fishing boat, this is probably not an issue. For those who do want to be able to back up on a fish or reverse into a tight marina berth, there are throttle and gear controls in the cockpit, right next to the saloon entrance.
Although Maritimo is a production boat company, it does offer a wide range of options and not all of these are restricted to the choice of fabrics, furnishings and floor coverings.
In this model, there is an optional lounge and table across what is almost high enough to be a mezzanine deck.
There are number of options further aft too. The moulded pod that forms a lounge seat in the centre part of the transom bulkhead can be transformed into a livewell or fish box, or additional refrigeration space.
One can also choose an extended 1.5m wide platform that can be raised and lowered into the water (by 450kg-rated rams capable of lifting most PWCs or a reasonably sized tender). Although it is probably too early to say if the M50 will prove as popular as its predecessor, early indications are that it will.
Before the first was completed at Maritimo's Gold Coast shipyard, two M50s had already been sold, sight unseen, at Miami's Fort Lauderdale International Boat Show.
Want to know more? Check out the comprehensive boat test on the Maritimo M50 in the September/October issue of Pacific Powerboat or at www.pacificpowerboat.com.