Indulgent treats for days when only dessert will do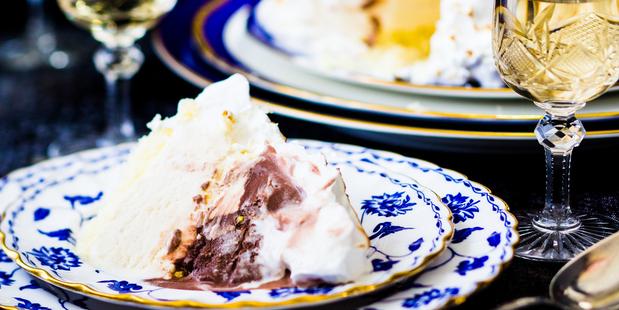 Serves 8
• 1 litre vanilla icecream
• 1 litre chocolate icecream
• 1 madeira cake
• 4 egg whites
• 1 tsp vanilla essence
• 1 cup caster sugar
• ½ tsp cream of tartar
• 2 Tbsp toasted almonds


1. Line a 2 litre pudding bowl with cling film, leaving a few centimetres hanging over the side.
2. Soften the icecream, then layer one flavour over the other, making two or three layers. Leave enough room for the cake to fit level with the top of the bowl.
3. Slice the cake into a circle so as to fit just inside the bowl on top of the icecream. Cover the sponge with the excess cling film and refreeze.
4. Just before serving, make the meringue by beating egg whites with vanilla until stiff, then slowly add the sugar and cream of tartar. Fold through the almonds.
5. Invert the icecream and cake on to a baking tray and remove the cling film. Smother the entire pudding with the meringue, using the back of a spoon to swirl it into peaks. Return the dessert to the freezer until ready to bake.
6. Heat the oven to 220°C and bake the dessert for 5 minutes until golden. Alternatively, use a blowtorch to brown the meringue. Serve immediately.
- VIVA