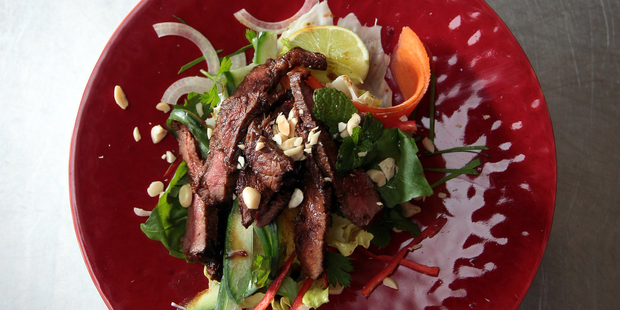 Serves 6 as a starter
• 500g beef rump steak
Dressing
• 1½ Tbsp fresh lime juice
• 1 Tbsp finely chopped dark palm sugar
• 1 Tbsp fish sauce
• 2 tsp sesame oil
• 1 tsp soy sauce
• 2 tsp finely grated fresh ginger
• 1 garlic clove, crushed


1. Whisk together the above ingredients.
2. Place the steak in a glass or ceramic dish. Drizzle with half the dressing.
3. Cover with plastic wrap and place in the fridge for two hours to develop the flavours. Turn occasionally.


Salad
• 1 cucumber, halved lengthways, thinly sliced diagonally
• 1 white onion or 6 shallots very finely sliced
• 1 long fresh red chilli halved, deseeded, thinly sliced lengthways
• Crisp lettuce, torn. Use iceberg or crunchy cos
• 1 medium carrot, peeled and "ribboned" with a vegetable peeler.
• 1 bunch fresh mint, leaves picked, large leaves torn
• 1 bunch fresh coriander, leaves picked
• 1 bunch fresh basil, leaves picked, large leaves torn


1. Arrange as a base on your plates.
2. Grill the steak for 2-3 minutes each side on a high heat to sear well on the outside but leave the centre rare.
3. Transfer to a plate. Cover with foil and set aside for 10 minutes to rest.
4. Thinly slice the meat and arrange over the top of the salad.
5. Dress with the remaining dressing.
6. Sprinkle with 1/3 cup toasted peanuts, coarsely chopped and 4 kaffir lime leaves, centre veins removed, finely shredded