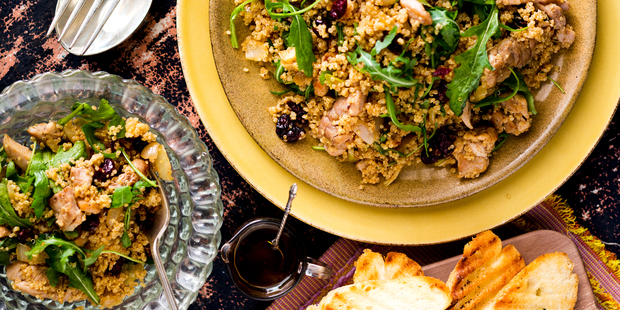 Serves 4
• 1 cup quinoa
• ¼ cup lemon juice
• 2 Tbsp oil
• 1 onion, sliced
• ½ Tbsp coriander
• ½ Tbsp cumin
• 1 tsp paprika
• ½ tsp salt
• 1 Tbsp oil
• 8 boneless chicken thighs, cut in strips
• ½ cup cranberries
• 1 cup rocket leaves


1. Cook quinoa according to packet instructions. Once cooked and cooled, mix in lemon juice.
2. Heat the oil in a frying pan and add the onion. Cook for 2 or 3 minutes, add the coriander, cumin, paprika and salt. Cook for 2 minutes. Add this to the cooled quinoa and mix well.
3. Heat the second measure of oil in the frying pan. Cook the chicken, seasoning with salt and pepper as you go.
4. Remove and fold through the quinoa with the cranberries and rocket.
5. Serve on a platter with a splash of lemon and olive oil.
- VIVA