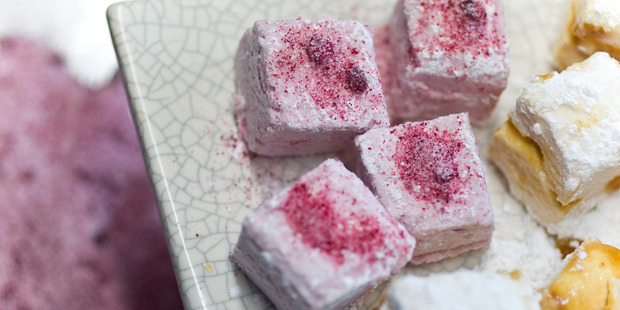 Marshmallow
• 17g gelatine
• 125ml plum puree (force canned plums and juice through a sieve, using the back of a spoon)
• 80ml water
• 250g sugar
• 50g liquid honey
• 4 egg whites
• Pinch salt
• 1tsp vanilla paste with seeds
• 1 C cornflour
• 1 C icing sugar
Plum sugar
• ¼ C sugar
• ¼ C freeze-dried plum


1. Place plum pulp in a small bowl and sprinkle over the gelatine, set aside.
2. To make the plum sugar, blitz the sugar and freeze-dried plum in a food processor.
3. In a small saucepan with a candy thermometer (any thermometer that can read up to 150C will be fine) mix sugar (for marshmallow), honey and water. Place over a medium-high heat and allow to come to the boil
4. Meanwhile, add egg white to the bowl of a standing mixer.
With whisk attachment, whisk until frothy, add salt and mix again to combine.
5. When the sugar syrup reaches 118-120C remove immediately from heat. Turn the mixer on to a medium-low speed and slowly pour the sugar syrup into the egg white.
6. Scrape the gelatine mix into the saucepan you have just used for the syrup, mix to dissolve the gelatine in the residual heat and add vanilla paste. Pour this mix into the egg white mix slowly.
7. Whisk on medium-high speed for 5-8 minutes, or until the side of the bowl feels room temperature.
8. Meanwhile prepare pan - roughly 30cm x 20cm is good, with a height of at least 5cm. Line with cling film, and spray this lightly with cooking spray.
9. Once marshmallow is ready, pour the mix into the prepared pan. Smooth with a spatula so you have an even layer. Leave in the fridge for at least four hours.
10. Once set, combine cornflour and icing sugar and place in a bowl or directly on the bench. Using a hot knife, cut your marshmallow to the size you want, and roll this in the cornflour/icing sugar mix.
11. Sprinkle a small amount of plum sugar on the top of each of your marshmallows to decorate.