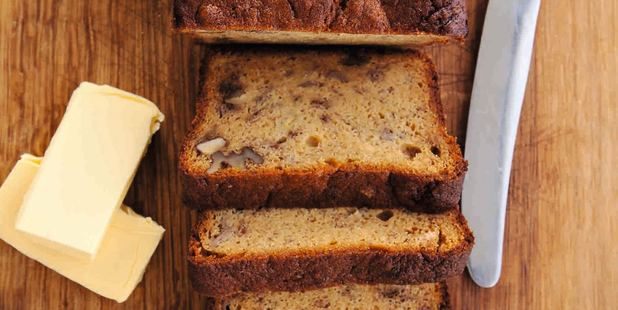 We've come a long way from that soft, fluffy white loaf with the 'kissy-crust' of my childhood. Auckland and other New Zealand cities have fine artisan bakers producing a wide range of sourdoughs, complex seedy authentic slow-rise breads, and European-style rolls and loaves.
Given that, I wouldn't even think about baking bread; I prefer to bake cakes and long-keeping fruity loaves such as this sweet banana loaf. Make sure you buy freshly shelled walnuts, as even slightly stale nuts can be rancid and will spoil your efforts.
• 100g unsalted butter, softened
• 50g dark cane sugar
• 4 tbsp golden syrup
• 4 eggs
• 4 ripe bananas, mashed
• 225g self-raising flour
• 4 tbsp chopped fresh walnuts

1. Pre-heat the oven to 180C. Prepare a 22cm x 12cm loaf tin by brushing with melted butter and dusting with flour.
2. Put the softened butter in a cake mixer with the beating attachment (on my Kenwood it's the K beater), and beat until very soft.
Add the sugar and continue to beat for 2 minutes. Add the golden syrup and the eggs, one by one, continually beating.
3. Remove the bowl from the mixer and fold in the mashed banana. Sift in the flour and gently combine, adding the chopped walnuts last.
4. Tip the cake batter into the prepared tin. Bake for 55 minutes, or until a wooden skewer comes out cleanly when inserted into the middle of the loaf. Allow the loaf to rest in the tin for about 10 minutes before turning out onto a wire cooling rack.
Serve in thin slices, which you may like to butter, although the loaf is moist. It will keep in a tightly covered container for up to a week.

Recipe from Lauraine Jacob's new cookbook, Everlasting Feast (Random House NZ $55).