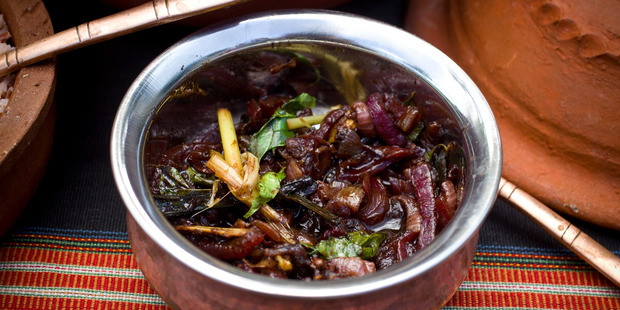 Seeni sambal. Photo / Michael Craig
• 2 Tbsp canola oil
• 3 large red onions
• peeled and sliced
• 1 Tbsp Maldive fish
• 1 Tbsp crushed ginger
• 2 garlic, crushed
• 1 tsp red chilli flakes
• 3 cardamoms
• 4 cloves
• 1 piece cinnamon
• small sprig curry leaves
• 1-2 pieces pandan leaves (optional)
• 1 piece lemongrass, smashed (optional)
• Salt to taste
• 1 tsp tamarind paste
• 1 Tbsp brown sugar

1. Heat the oil in a frypan over medium heat.
2. Mix together the onions, fish, ginger, garlic, spices, lemongrass and salt and stir fry until onions change colour.
3. Lower heat, continue to stir and when the onions start to caramelise, add the tamarind paste and brown sugar and cook for two minutes.