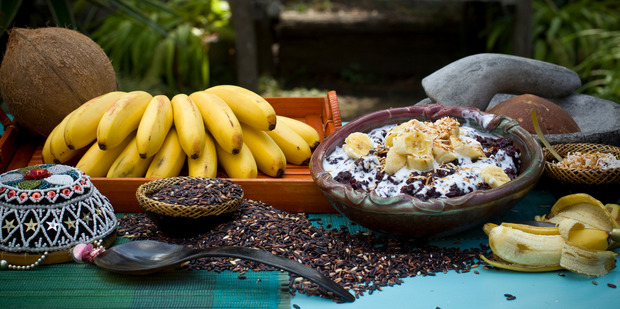 Black rice pudding is served for breakfast in Bali on special occasions and also at one of my favourite restaurants in Kuta, Poppies, a popular spot since the 70s.
This recipe has been adapted from one used at The Casa Luna Cooking School in Ubud in Bali (www.casalunabali.com) During the class we learn about the ingredients that make this recipe special. The pandan leaf imparts a flavour, described as the vanilla of the East; the palm sugar comes from the juice of the palm flower and adds a flavour like a rich maple syrup. If unavailable you can always use maple syrup. And the black rice is almost nutty.
If there's any black rice left over I blend it with some vanilla ice-cream and serve it with tropical fruit as an evening dessert.

Serves 4-6
• ½ cup black glutinous rice
• ¼ cup white glutinous rice
• 2 pandan leaves (optional, I use frozen leaves)
• 1 vanilla bean, split lengthwise
• 1 cinnamon stick
• ¼ tsp salt
• ½ cup palm sugar syrup
To serve
• Toasted grated coconut
• coconut milk
• sliced fresh fruit

1. Soak the rice in water overnight.
2. Place the rice and water in a large saucepan. Add the pandan, vanilla and cinnamon and enough extra water to cover the rice by 10cm.
3. Heat until boiling and then reduce heat and simmer gently until the rice is soft and water absorbed, approximately 40 minutes
4. Stir in the salt and palm sugar syrup.
To serve, spoon into bowls and top with coconut milk, sliced fresh fruit and sprinkle with toasted coconut.