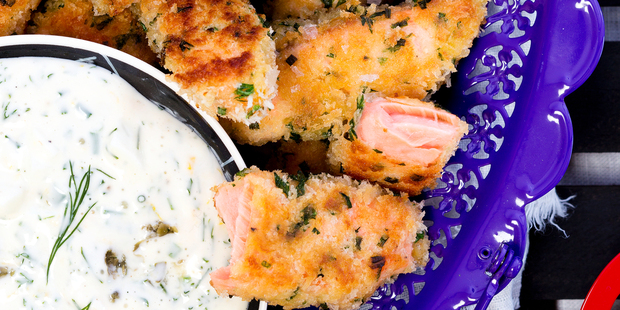 Makes 16-20
• 400g salmon
• ¼ cup flour
• 1 egg
• 1 cup fresh breadcrumbs
• ¼ cup fresh herbs, chopped roughly (dill, parsley, tarragon, chives)
• ¼ cup sunflower oil
Tartare Sauce
• ½ cup mayonnaise
• 2 Tbsp capers
• zest and juice lemon
• 1 boiled eggs, chopped roughly
• ¼ cup chopped fresh herbs
• Salt and pepper, to taste

1. Remove any skin and bones from the salmon, then slice into thin strips. Mix the herbs with the breadcrumbs.
2. Dust each piece with flour, dip in egg and roll in the breadcrumbs. Place on clingfilm and refrigerate until ready to cook.
3. In a small bowl mix the mayonnaise, capers, lemon, egg, herbs, and salt and pepper.
4. Heat a frying pan to a medium heat. Place the fish into the pan cooking for 3 or 4 minutes on each side until evenly golden.
5. Serve the fish hot with the tartare sauce for dipping.
- VIVA