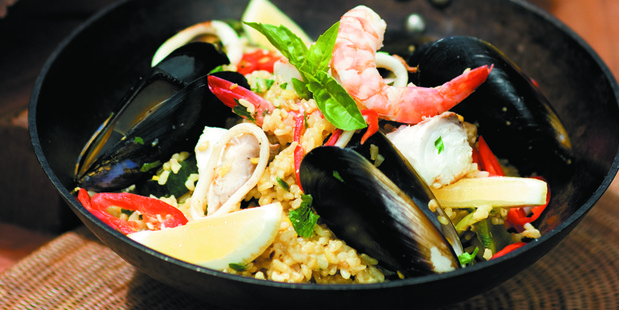 Serves 6
• 2½ cups (500g) brown rice
• 1.5 litres vegetable stock
• 2 Tbsp (50ml) olive oil
• 1 medium onion, diced
• 1 medium (100g) green capsicum, diced
• 2 (100g) tomatoes, diced
• 1 medium (100g) zucchini, sliced
• ½ (100g) eggplant, diced
• 100g green beans
• 1 Tbsp each sea salt & pepper
• 8-10 threads saffron or tbsp. turmeric (or 1 fresh knob)
• 2-3 cloves garlic, chopped
• 200g squid, cut into rings
• 300g firm fish chunks (ling, cod, tuna)
• 12 medium king prawns, tail on
• 18-24 (500g) fresh mussels
• 2 lemons, juice and some zest
• ½ cup parsley, chopped

1. Saute onions, garlic and saffron or turmeric in some vegetable stock. Add rice and remaining stock and cook covered on low heat (absorption method) until most of the liquid is absorbed.
2. Marinate the seafood in lemon juice, garlic and oil.
3. Cook seafood and vegetables separately in a hot pan or wok for 2-3 minutes.
Add to the rice with all the juices and mix well, leaving for a few minutes for flavours to saturate the rice.
4. Add the cooked fish last, folding gently through the rice to avoid breaking. Only serve mussels that have opened! Check seasoning and sprinkle with parsley. Garnish with extra lemon wedges.
Nutrition Info: Packed with goodness from every angle and served on the Gwinganna lunch tables in the pans in which it was cooked, this amazing dish delights our guest and it will delight you too. Keep in mind our two fist size serving guide.