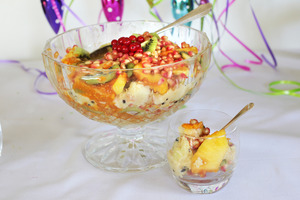 Serves 12
• 1 ripe pomegranate
• 2 fresh papaya (paw paw), nice and ripe
• 9 kiwifruit peeled and thickly sliced
• 1 pineapple, cut into 1cm chunks
• Trifle sponge, bought or made
• 2 cups of natural unsweetened yoghurt mixed with
• 2 Tbsp of passionfruit pulp (bottled) or the pulp of 3 passionfruit mixed with a tablespoon of liquid honey.

1. Cut the pomegranate in half and remove the seeds and the juice, straining the juice from the seeds into a bowl.
2. Peel the papayas and remove the seeds.
3. Chop and place in a blender, puree and add the pomegranate juice. Pulse to mix.
4. Cut the sponge into cubes. Place half in the base of your serving bowl.
5. Spoon over half the passionfruit yoghurt, then half the papaya puree. Cover with half the kiwifruit and half the pomegranate seeds. Press down to level the layers.
6. Add the next lot of sponge. Cover with the papaya puree. Cover with the pineapple. Spoon over the remaining passionfruit yoghurt and decorate the top with the remaining kiwifruit and pomegranate seeds.
7. Cover and refrigerate for a least 4 hours.