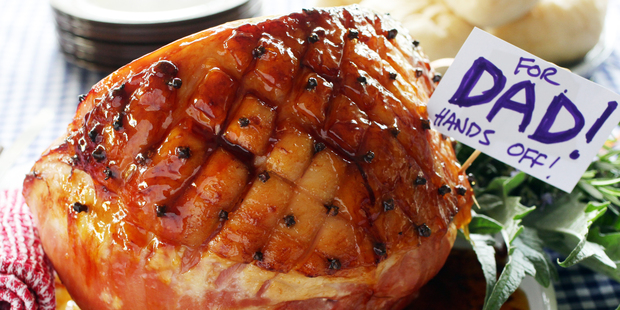 Christmas is not the only time to indulge in a glazed ham. Imagine how happy dad would be to go to the fridge in the days after Father's Day and slice off a slab of his own ham. It's a gift that keeps on giving.
Glaze the ham for a Father's Day, serve it with some rolls, chutney, mustard and some token green lettuce leaves. Then wrap the glazed ham in a damp tea towel, store it in the fridge and let dad carve away at it for the following week.
1 Buy a 3-5kg ham with the bone in. Carefully remove the skin, leaving the fat layer intact.
2 Make a glaze with a cup of apricot jam, a cup of orange juice and a cup of raw sugar. Blitz this in your food processor.
3 Set the oven to medium.
4 Criss-cross the outer fat layer of the ham with a knife, trying not to cut through to the meat layer. Dot the intersecting cut lines with whole cloves.
5 Sit the ham in a big roasting tray. Pour over the glaze. Put into the oven and every 10 minutes open the oven and spoon the glaze over the ham. After about half an hour the ham should be coloured and gorgeous. Leave longer if it is not and keep basting until it is. Remove the ham and put it on your serving plate.
6 Put the pan containing the remaining glaze liquid on a low heat and reduce it to a syrupy consistency. Be careful, you don't want it to turn to toffee. Once thick, pour this over the ham to coat and further glaze. Again, be careful, this caramelised syrup has high burn potential.
7 Decorate the end of the ham with herbs and ribbons to make it celebratory.