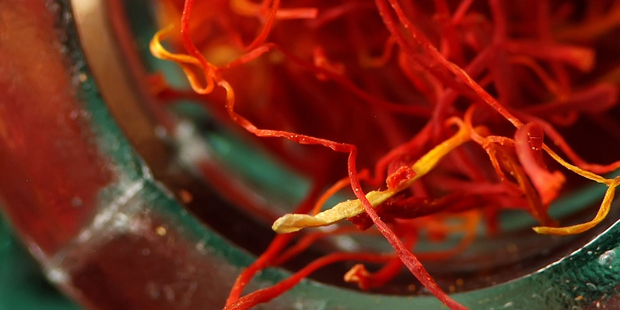 Many, many years ago, my first experience with saffron turned into love at first scent.
Saffron, although pungent at first, adds a wonderful floral note to dishes once cooked. It's the world's most expensive spice, and no wonder. Saffron comes from the dried stigmas of a purple crocus, and each flower has only three stigmas, which must be hand-picked.
It takes more than 14,000 of those tiny stigmas to make an ounce of saffron.
It may be expensive, but it's used sparingly. A pinch goes a long way because saffron is so aromatic.
A friend once told me how disappointed she was the first time she bought saffron at a major grocery store for a lobster bisque recipe. It was in an envelope, inside a jar. When she opened the envelope and saw what little was there, she thought she'd been short-changed considering the price. She hadn't been.
Saffron looks like a small, tangled mess of red threads. The redder the threads, the higher the quality, though sometimes there are a few yellow threads, too.
You can crush the tiny threads and add them directly to what you're making, or you can steep them first in a small amount of liquid.
One well-known use of saffron is in the Spanish dish paella. It's used not only for flavour, but to tint the rice. Saffron also is used in risottos (a creamy rice dish) and in some seafood bisques.
Paella typically has an array of ingredients: chicken (usually thighs), smoked sausage or Spanish chorizo, seafood (prawns, clams, mussels) and vegetables. A paella pan is wide and shallow. But any large frying pan with a lid - that can hold all the ingredients - will do.
Paella seems like a lot of work, and many paella recipes have a laundry list of ingredients. But that's what makes the dish great, especially for a party. It's a huge mix of ingredients and flavours that meld incredibly well. You can make paella with all seafood or all chicken, or add more of your favourite vegetables.
This recipe is adapted from Martha Stewart's Everyday Food magazine. It goes together in less than an hour. Instead of using chicken thighs and Spanish chorizo, it calls for precooked chicken sausage. Use one that is plain without a lot of seasonings or cheese. I also used prawns because that's what I had on hand, but you can add clams, mussels or even lobster. Just be sure to add them towards the end so they don't overcook.
Easy prawn and chicken sausage paella
Use a wide, shallow frying pan with a lid for this recipe.
Serves: 8
Preparation time: 20 minutes
Total time: 50 minutes
2 tablespoons olive oil, divided
500g large prawns, peeled and deveined
500g chicken sausages, sliced in 1cm rounds
1 large red onion, finely chopped
1 red or green capsicum, chopped
2 large cloves garlic, minced
1 1/2 cups long-grain rice
1/4 teaspoon sweet Spanish paprika
Pinch of saffron
1 can (400g) no salt added diced tomatoes
1 litre fat-free, reduced-salt chicken broth
Salt and ground pepper
1 cup frozen green peas, thawed
1 In a heavy 30cm frying pan, heat 1 tablespoon oil over medium-high heat. Cook prawns until just pink on both sides, 4 to 5 minutes (do not overcook). Transfer to a plate and set aside.
2 Add remaining tablespoon oil and sausage to pan; cook over medium-high heat until beginning to brown, about 2 minutes. Add onion and capsicum. Cook, stirring frequently, until onion is translucent and vegetables are softened, about 5 minutes. Add garlic and rice; cook, stirring to coat, until rice is translucent; about 2 minutes.
3 Stir in paprika, saffron, tomatoes and broth, scraping up browned bits from bottom of pan with a wooden spoon. Season with salt and pepper.
4 Bring to a boil, then reduce heat to a simmer. Cover, and cook until rice is tender and has absorbed almost all liquid, 20 to 25 minutes. Stir in peas; cook 1 minute. Stir in cooked prawns; serve immediately.
* Adapted from Every day Food magazine, December 2003 issue.
- McClatchy-Tribune