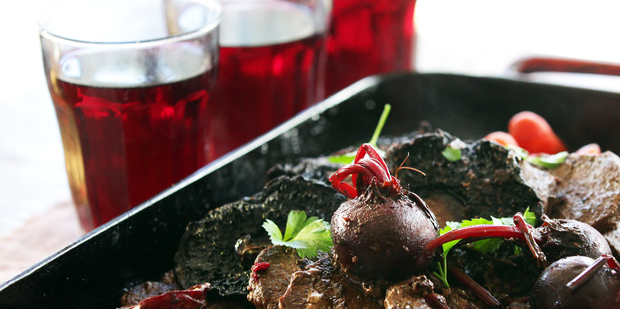 Stoneleigh 2011
Don: Pinot is hugely popular and you can see why. Packed with flavour, elegance and finesse (the better ones, anyway) its flavours cover the spectrum, from ripe black cherry and plum to earthy, savoury notes of truffle and beetroot. This earthiness makes it a great partner for game dishes or dishes with a strong mushroom element. The more intense examples are also a nice accompaniment to dishes involving chocolate, although I'd stop short of using it as a dessert wine. We chose the wine here for its versatility and its all-round flavour profile, as it offers plenty of fruit flavours as well as a nice savoury edge.
Autumn venison
Ask your butcher to cut some venison medallions.
Allow 4 per person.
1 Season one large, flat, dark mushroom per person. Sit these in a roasting dish and add a little water and oil. Roast in a moderate oven.
2 Cook some baby beets by simmering in a pot of water. Leave the skins on.
3 In a solid pan flash fry the venison medallions and put them aside to rest.
4 To make a sauce, deglaze the pan you have cooked the venison in with some beef stock. Add half a wine glass of pinot noir and the same of the water that the beetroot has cooked in.
5 Reduce this to a sauce-like thickness. Check the seasoning and swirl in a little butter to give your sauce a shine.
6 Arrange the venison, beets and mushrooms in a serving dish and pour over the sauce.
I served this with some roast kumara, baby carrots and Brussels sprouts.