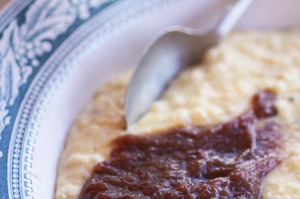 It seems a lot of people have had a bad experience with rice pudding, but do try this and hopefully it will be a revelation.
Serves 4
90g Arborio rice
85g caster sugar
1.7 litres full-cream milk
1 Preheat the oven to 160°C. Grease an ovenproof dish with butter.
2 Mix the rice, sugar and milk together in a bowl, then pour it into the dish.
3 Put in the oven and cook very slowly for 3-4 hours. What you are doing is caramelising the sugars. You will need to stir often and scrape down the sides. The pudding is ready when it has gone a lovely dark golden colour.
4 This is delicious with strawberries cooked in sugar until they are almost like jam, or stewed rhubarb, feijoas or prunes.