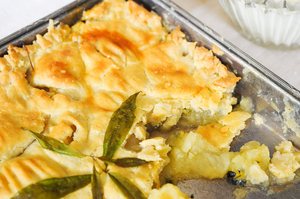 Make one batch of cream cheese pastry, adding the fine zest of half a lemon and a teaspoon of ground cinnamon while combining. Or use bought shortcrust.
1 Peel, core and dice 4 golden delicious apples into eighths.
2 Barely cover with cold water, the juice of a lemon and a tablespoon of honey and just poach.
3 Strain the apples and reduce the liquid to a syrup. Pour back over the apples and cool.
4 Add the pulp of 2 passionfruit.
5 If you have lemon verbena add a leaf or two, and pick a sprig for garnish.
6 Place the filling into your pie dish. Cover with the pastry and cut around the edge to sit just on the rim.
7 Press around the edge with a fork and glaze the pastry with a beaten egg.
8 Make a hole in the middle of the pastry to let the steam out. Sit the sprig of lemon verbena on the pie.
9 Bake in a preheated moderate oven till crisp and browned.
This pie is not over sweet so serve with some sweet whipped cream or ice cream.