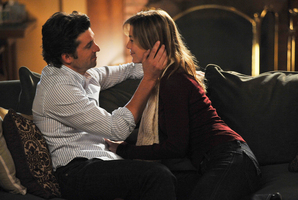 Vanity Fair and 60 Minutes joined forces recently and polled 1168 women to find out the answer to this pressing question. Many things got a mention, from getting all the fancy degrees and saying No! to drunkenness, to being a TV doctor and not being an athlete. So, no one's perfect - yada yada - here's what constitutes the ultimate XY:
A good education beats hard work and athleticism.
He can sit around munching Twisties all day and re-watching old Seinfeld eps if he's got his Masters. He'll still be perfect. Well, probably not, but 35 per cent of respondents considered an education the single most important thing for a young man.
A "hard worker" came in second at 28 per cent and a "gentleman" followed closely behind with 27 per cent. Five per cent said "willing to talk about feelings" and one per cent said "good athlete" were the most important measures, respectively, of greatness. Conclusion: sensitive athletes, your time is not now.
Drunkenness is worse than anger.
Apparently "an otherwise good man is most flawed" when he's drunk (46 per cent), followed by angry (21 per cent). Twelve per cent felt a man was least perfect when he was "scared", with other answers ranging from "sick" (eight per cent), to "horny" (three per cent). Scared, horny men who cough everywhere, ugh get away.
The day of judgement.
At what point can you deem a man's life a success? Twenty-three per cent of women were very patient and said "Deathbed". (Because you never know what could happen in the last minute, he might suddenly trumpet out a no.1 single with the pathos of it all.)
Another twenty-three per cent reckoned age 40, while 15 per cent offered a more reasonable "retirement". What constituted success wasn't clear, but it probably wasn't being a sensitive athlete.
Guys be flaring up.
Given the chance to change anything about their partners, 29 per cent said they'd change his "temper". (Calm down, 29 per cent of dudes.) Eleven per cent said they'd wipe his friends off the face of the earth; nine per cent would change his mother; eight per cent would give him a better sense of humour; seven per cent would change his physique; and two per cent just wished he was cleaner. Yuck, those guys.

Put a ring on McDreamy.
Picking from a list of fictional, televised male characters, 29 per cent would choose to become one in holy matrimony with McDreamy from Grey's Anatomy. The other chosen few, in order of most marry-able, were: Frank Reagan (from Blue Bloods); Matthew Crawley (Downton Abbey); Jack Donaghy (30 Rock); Robb Stark (Game of Thrones); and Don Draper (Mad Men).
Pickup lines are all horrible, but some are more horrible.
Among possible pickup lines, the least... actually, ugh... I don't want to write about pickup lines. Are they even a thing, still? Refer to the poll's infographic if you must.
Mothers.
More than three-quarters of respondents believed mothers have "a lot" or "full" control over how perfect her son becomes. Unfair! (And yet...)
Mid-life crises.
Twenty per cent of women think married men who have affairs and buy tiny sports cars do it out of "biological necessity". Ha ha! A more sensible two thirds see the concept as "a poor excuse", but the remaining ten per cent consider it the fault of "a young woman at the office".
And there you go. I feel we've all gleaned some interesting insights today - if only that there's little to be learned from polls about the "perfect man". Blog adjourned.
Follow Rebecca Kamm on Twitter.