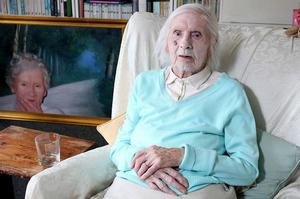 Readers, please meet just-turned-105-years-old romance novelist Ida Pollock, who I wish very much I knew in real life. She's just been hailed the world's oldest producer of bodice rippers, and even has a book (The Runaway) in the pipeline as I type.
Her 123 titles - including over 70 for Mills & Boon - have been written under adorable pseudonyms like Mary Whistler and Marguerite Bell, and titles include Rose in the Bud, A Distant Drum, Marry a Stranger and Accidental Bride. (My ticket's on that last one. Exciting/scary!)
Based in Cornwall, Ida now dictates her steamy prose to her daughter Rosemary, who is 69. Of her literary characters, she says:
"'The men are normally rich, well-to-do, but never vulgar with their money. Young men lack the maturity to take control so an older man is essential to provide the reassurance the heroine needs.There's always a fair amount of turbulence before he sweeps in to save the day. A happy ending is an absolute must."
Here is an extract from her book The Marriage Wheel (1968):
I said you were stupid the last time I saw you," he murmured softly, "and I'm bound to confess you do strike me as very stupid indeed! For a young woman with such an infinitely attractive pair of large green eyes that sometimes make me think of rock-pools, to say nothing of your soft gold hair and most determined little chin that is as round and soft as a baby doe's nose, your confidence in yourself and your ability to charm appears to be strictly limited.
And this, from A Distant Drum (2005):
She had been in bed no more than five minutes when she heard the door handle begin to turn. The movement was gentle at first. "Open this door, or I'll break it down," the Marquis ordered. When there was no immediate response his fist began pounding against the woodwork, and Fanny jumped out of bed. "I don't," his lordship told her, "wish to rouse the whole house, but if it becomes necessary I shall not hesitate to do so. Turn the key in the lock, Fanny."
Ida is a widow - her husband, Hugh Pollock, was a thrice-married editor and ex-husband of Enid Blyton with alcoholic tendencies. She sold her first novel (Mistress of Brown Furrows) to Mills & Boon in 1952, but says she got the writing fever far earlier:
"I think I was born to write. My mother would put a typewriter on the dining room table and say 'there you go'. My first story was published in the Christian Herald and they would pay me five guineas. I wrote my first novel when I was just 14. I was into mysteries and thrillers at the time but I eventually I drifted into romance because my mother would always ask me to write 'something pretty'."
Her memoirs, Starlight, was published in 2009 and details the start of her career, her marriage, and the relationship between her husband with his ex-wife Enid Blyton. (Who, says Wikipedia, wouldn't even visit her husband in hospital when he was injured in the Blitz "because she was busy and hated hospitals". Tsk.)
The Romantic Novelists' Association - which Ida helped establish in the early 1960s - made her its honorary vice-president last week. Here she is with daughter Rosemary.
Follow Rebecca Kamm on Twitter.