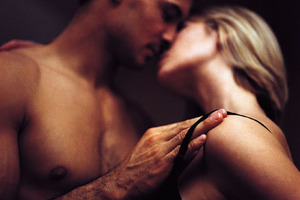 Sex news! Sex news! A smattering of diverse studies about doing it has been circulating of late; see below to get up to speed and add some colour to your next bout of party smalltalk. You're welcome.
Men are programmed to not jump their best friends' wives.
Mother Nature is really nice, sometimes. A new US study has found she (probably) made it so that dudes are instinctually averse to the idea of sleeping with their best friends' wives. Men's testosterone levels actually dipped when interacting with their chums' spouses, in some sort of biological bros-before-hoes mechanism.
"Men's testosterone levels generally increase when they are interacting with a potential sexual partner or an enemy's mate," explains lead researcher and anthropology professor Mark Flinn. "However, our findings suggest that men's minds have evolved to foster a situation where the stable pair bonds of friends are respected."
That, or most men just really can't stand their BFFs' wives. Also (very) possible.
Dinosaurs had sex like missionaries, maybe.
Professor Brian Switek thinks he's discovered how dinosaurs had relations, and it was missionary style: "The female lay down on her side and the male reared up to rest his torso over her, while other species could have used different positions, like backing up to each other," he says.
Except, then fellow dinosaur expert Professor John Long "scorned" his discovery and the other paleontologists "wouldn't take sides on the debate". So you see, there's office politics even when you're working with the sex positions of prehistoric animals.
One in five men believe a fancy meal can buy sex.
According to a study of 2000 people by MSN.co.uk, 20 per cent of men say they "expect sex" if they spend $180 or more on dinner with a woman. And 7 per cent of women said they felt obliged to deliver if a man had been very generous. (That is exactly 7 per cent too many.)
Sex can make you smarter.
According to a new study out of Padova, Italy, people who have sex every day are more likely to increase "nerve growth" in their brains. The effect is especially noticeable in new lovers, which I wouldn't have guessed. Love-struck noobs usually look pretty daft to me.
Eight per cent of Canadians have done it in a canoe.
Fact.
Follow Rebecca Kamm on Twitter.